Imagine being able to step back in time and explore the town where you grew up as it was in years gone by. Imagine not only being able to walk the streets and corridors of some of the most important places in your life, but being able to experience the stories of the people who lived and worked there too.
Being able to "travel back in time" in this fashion might soon be possible, thanks to the Amsterdam Time Machine project, and a host of other similar initiatives.
The project is supported by a range of organizations including the University of Amsterdam, Creative Amsterdam, and the Amsterdam Centre for Cultural Heritage & Identity. Together these institutions are working towards creating something that's been described as a "Google Earth for the past".
According to Professor Claartje Rasterhoff – a coordinator of the project – that's a good way of describing what they're working on. "The Time Machine is the perfect vehicle to connect lots of different efforts towards better research," she says, "but also to present that local history and make it relevant to the present, and indeed the future."
At some point in the future users will be able to navigate a virtual map of Amsterdam that's more detailed than any that has ever existed. They'll be able to explore streets, stroll into public buildings, and even peek into houses, with details as specific as what pictures were mounted on the walls included for some locations.
"It's always been our ideal to not only make a model of the built city," says Professor Rasterhoff, "but to really try to recreate the city as it was used. For example we have a project on the use of streets, and what people did out on the streets: where they went to work, where they played, where they lived. We're using criminal court records but adding more anecdotal information from diaries to it, to reconstruct people's movement patterns."
"We look at how the city has been represented in diaries, in novels, in paintings and pictures in general - really using sources that are less formal to get a sense of the different representations of the city in people's lives."
Professor Claartje Rasterhoff
The Time Machine is comprised of a range of different 3D models, interfaces, and databases – all drawn from the massive datasets contained in Amsterdam's libraries, museums, universities, and archives. Transforming these paper-based records into parts of the time machine is a huge job… but that's often the case when it comes to finding out about the past.
Even researching your own history can sometimes take a little legwork. You might find yourself digging through data, visiting libraries, perusing old photographs, or puzzled over illegible handwriting!
The Amsterdam Time Machine (and other projects like it) will make that process so much easier, and perhaps more enjoyable too. Instead of poring over maps and documents, you'll be able to step into a 3D visualization of a space and explore as you see fit.
For an idea of what that might feel like, take a look at the Cinema Parisien. This 3D model was put together by a small team supervised by Professor Julia Noordegraaf – another coordinator of the Amsterdam Time Machine project. It recreates one of the first purpose-built cinemas in Amsterdam, down to the details of the gilding around ticket windows and the carpets on the stairs.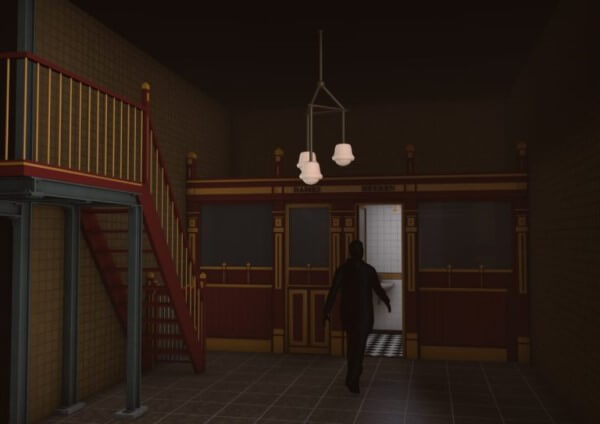 A 3D model of the entry hall in the 1910 Cinema Parisien. Design: Loes Opgenhaffen (CREATE, UvA)
Exploring this visualization brings the place to life. It puts you squarely in the shoes of a patron stepping through the doors when the cinema opened for the first time in 1910.
Tools like this could revolutionize the way that we understand our own life stories. Imagine, for example, if you could step back in time and visit your old school, or a street on which you once lived. How about the hospital where you were born, or a place where you used to work?
When asked what researching a memoir might look like in the future, Professor Rasterhoff says, "I hope people will still go to the archives! That there will still be physical places to go to do research - but that it will be easier to make connections, to answer questions. I can imagine that in 100 years we'll have figured it all out."
In order to make those connections and figure out the puzzle of the past, projects like the Amsterdam Time Machine use data. In the case of the Cinema Parisien the team used the remains of the existing building, old photographs, documentation, records, and journals to assemble as accurate a picture of the place as possible.
Personal stories are just one dataset, but they're a crucial one. After all, while maps might allow us to see how a city was built (and census data might allow us to see who lived there) it is only through personal accounts that we can really answer questions about what a place was like.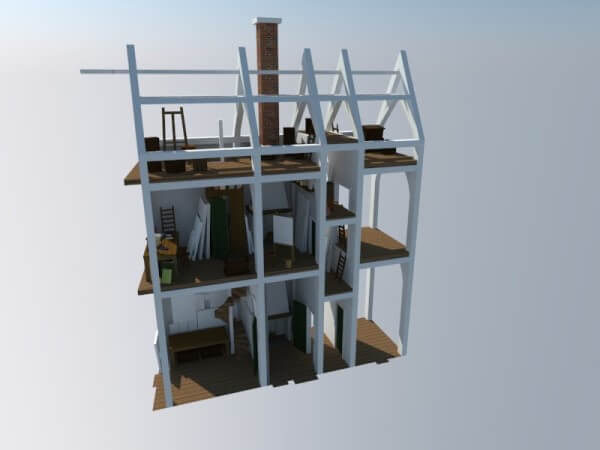 A 3D model of a 16th-century painter's shop in Warmoesstraat 138. Design: Loes Opgenhaffen (CREATE, UvA)
"It's also about how people experienced the city," says Professor Rasterhoff. "How they imagined it. And to include that we look at how the city has been represented in diaries, in novels, in paintings and pictures in general - really using sources that are less formal to get a sense of the different representations of the city in people's lives."
In this light, the importance of recording your memories for future generations is all the more obvious. Without diaries, letters, journals and writings we wouldn't be able to see into the past. We wouldn't be able to build ourselves a time machine. Your story matters to you, of course, but it could also be important to any number of people looking back from the future – be they your relatives, your descendants, or curious researchers.
One day the Amsterdam Time Machine project will offer an unparalleled look at the last few thousand years of a city's history. And projects all over the world are working to do the same for other places. Perhaps one day your stories might form part of a time machine to help future generations travel back, see and experience the past, and step into your shoes.
Are you ready to start writing your memoirs? Great! Get in touch to arrange a chat with our friendly team to see how we can help or join our mailing list for more updates about researching your past and writing your memoirs.
Main image courtesy of: Madelon Simons and Loes Opgenhaffen (CREATE, UvA) - 3D model of a 16th-century painter's shop in Warmoesstraat 138