Desiree Home has two simple yet powerful words for her catchphrase.
Desiree's life has taken her on interesting, unexpected, joyful, scary journeys. Early on, she realized that when she'd tell people her story, she'd always say "and then," as she transitioned from each experience to the next. "The title of my StoryTerrace book came to me straight away," said Desiree, who was absolutely delightful as we chatted over Zoom. "I've wanted to write my book for ages, but I needed help — it would have taken forever to write by myself, and I wasn't sure how to structure it."
That's where StoryTerrace came in. Our writer met with "Des" and captured every detail that was important to her, starting from when Desiree was a young girl growing up in Tonbridge, Kent, UK. What was particularly special for Des was her mum Wendy's involvement. She shared the family's timeline, stories about Desiree from an early age, and other important family matters. "It was so nice for Mum, who's now 85," noted Des with a smile. "And it was lovely hearing Mum tell those stories and for us to remember things together."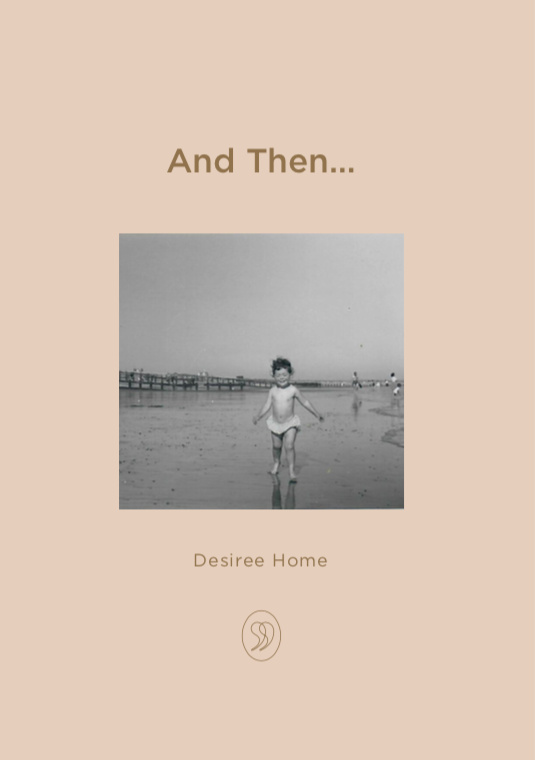 Desiree's StoryTerrace biography.
Dad, My Hero
One of the many special family memories they focused on for the book was of Desiree's father, Ron, who passed away 20 years ago. "Dad was a performer! He played the Jew's harp (yes, it's really called that), spoons, and guitar. I even have his guitar hanging on my wall," Des boasted. "He'd sing and dance in pubs — he'd roll his trousers up and his socks down, ruffle his hair, and do the 'Sand Dance.' He loved to party! He was my hero."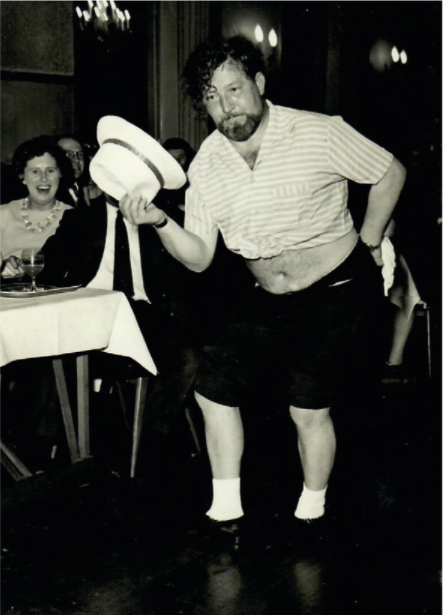 Desiree's dad – always the performer!


Fond memories of her dad and growing up with three siblings eventually segued into a pivotal time in Desiree's life, only she didn't realize just how important it was in the beginning.
And Then, the Wrens
Desiree's sister Beverly had joined the Women's Royal Naval Service — or the Wrens — at the age of 17 and was enjoying traveling and working for an ad agency in London. "She was having a good time, so I followed her. I sailed through all the basic training. Since I'd been to secretarial college, as did Beverly, I decided that my specialty in the Wrens would be writing," remembered Des.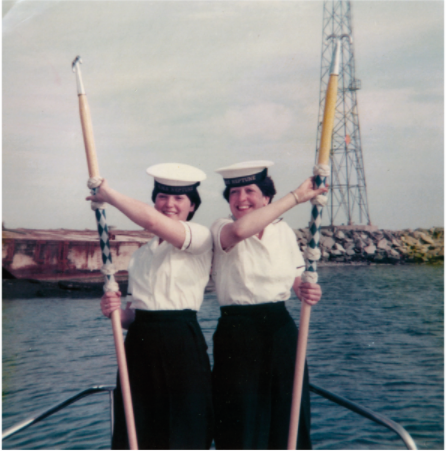 Crewing the commodore's barge on the Clyde with the Wrens


"We could be placed in different locations, and the only place I did not want to go to was Scotland. Out of 21 people in my Wrens' program, I was the only one they sent to Scotland. But, three weeks after I got there, I met my husband, Geoff. We've been married for 41 years."
Watch Desiree read an excerpt from her StoryTerrace book:
And Then, the Horses
Desiree happily spoke of her own three children and the passions she passed on to them. While her family had many "fur babies" and other pets, they especially loved horses. Des started taking riding lessons when she was just 5 years old. She's not sure how they did it, but she's forever grateful that her parents managed to scrape together money to pay for the expensive lessons. "When I turned 40, I bought my own horse named Murphy. He was a Shire horse. A rescue. What a character! I trusted that wonderful horse. And all my kids rode him," said Des as she beamed talking about Murphy, whom she had for 21 terrific years.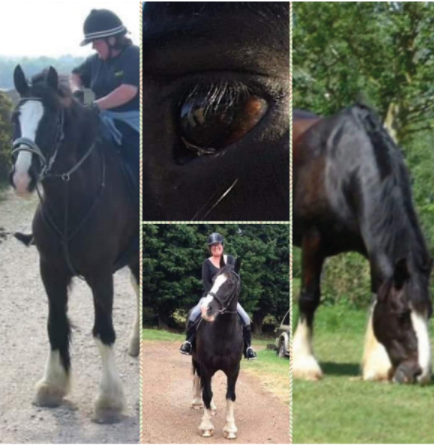 A dream come true: Desiree's very own horse.


"All my children ride horses, but my youngest daughter, Jessie, took it on herself to carry on the equestrian passion. She begged for a pony, and we finally gave in and got her a pony named Floyd when she was 10. After Floyd came Freddie. Jessie's daughter, my granddaughter, rides him today."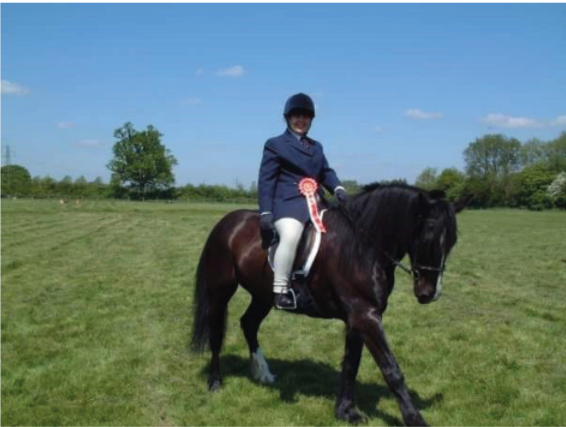 Jessie and her beloved Freddie were awarded a First in Class.
And Then, a Scary Turn
Desiree was diagnosed with cancer. While battling to save her life from the disease, she and her husband lost their cherished home. They were forced to give up their beautiful house because they'd used every penny they had to pay for cancer treatments. "We were in financial ruin," Des explained.
With part miracle and part fight, Desiree beat the nasty disease. And then?
Des won the lottery.
Not figuratively. Literally. A windfall of cash. "When we won lottery, it was such an incredible thing to go from being so low with cancer, nearly losing my life, being in financial despair, giving up our beautiful house … to clearing our debt, and where we live now and being so high, it's just incredible."
That's exactly why Desiree realized it was finally time to write her story.
And Now, No More Delays
"I find it so inspirational when people say, 'You don't know what's around the corner.' It's so true! I want people to stay strong, never give up hope. I want them to know that they are much more than they think they are. Things change, things can happen. Look at my life! The theme of my book is positivity. You can get through hardships," Des said cheerfully.
"If I can pass anything on to my kids and grandchildren, this book is it. Yes, the family history is wonderful and important, but I want to share my philosophy as well. I want my family to be happy and upbeat and believe in themselves — to know that they can come through the worst. That's why I wrote the book."
By the time Desiree's book was complete, she was happier than a horse in a pile of hay. "StoryTerrace and my writer, Jamie, were so nice and helpful throughout the process. Jamie and I spoke a few times, and he visited me in my house. We'd have lunch and chat. We really became friends, and I looked forward to him coming by," Des said of her book-crafting experience.
"StoryTerrace really knows what they're doing. I'm so glad I did it! My family loves my book, and I love it. My story is everything I hoped it would be and more."
Well, Des, we definitely look forward to hearing about your next "and then."
Are you finally ready to share your story? We're ready for you! First, sign up for our newsletter to read more inspiring stories from StoryTerrace clients just like Des. Then, get in touch to learn how our talented team can create your very own book full of special memories.