Everyone knows a hero of the pandemic.
Whether it meant delivering groceries to elderly neighbors, running food banks to help those in need, or working tirelessly in hospital wards, many people stepped up to help others when they needed it most. Yet despite their incredible efforts, most of these individuals went unappreciated by people outside of their immediate family.
Last spring, we decided that these everyday heroes should be applauded. After receiving over 300 nominations for our Unsung Heroes initiative, we're proud to announce the publication of our book about these outstanding helpers.
On July 8, we launched a new book, "Unsung Heroes," which showcases the inspiring stories of 25 individuals who made a real difference during the pandemic. We wanted to commemorate their acts of selflessness during such a difficult period and shed light on those who gave up their time and resources to help others.
A Sneak Peek at 3 of Our Inspiring Stories
1. The Activist Who Delivered Food to Those in Need
At age 93, Opal Lee is our oldest nominee. She started her own food bank in Fort Worth, TX over 40 years ago, and the pandemic couldn't stop her from giving. She continued to hand-deliver food boxes to the sick and shut-in throughout her community. Opal Lee is also the organizer of Juneteenth in Fort Worth and went to Washington, DC earlier this year to hand-deliver 1.5 million signatures in support of making Juneteeth a national holiday.
2. The Leader Who Steered a Nursing Home Through the Worst
Lindsay Sherman is the director of a nursing home in the Bronx, NY. After the majority of her staff quit due to their own health fears, Lindsay took on her whole team's workload. She helped families cope with deaths, provided support to dying patients, made hospice referrals, coordinated Skype video calls for residents to communicate with family, and many more duties. Despite suffering from asthma and chronic bronchitis herself, Lindsay continued going to work every day to make sure her patients had everything they needed.
3. The Man Who Educated the Unhoused About Covid
Eric Moseley left his home in Los Angeles in the middle of the pandemic to work directly with the homeless population of San Francisco. He took it upon himself to walk the streets each day and individually educate people about the dangers of Covid-19 and what they could do to protect themselves. Eric went from block to block educating people about the virus and handing out protective gear like hand sanitizing soap.
How to Get Your Copy of "Unsung Heroes"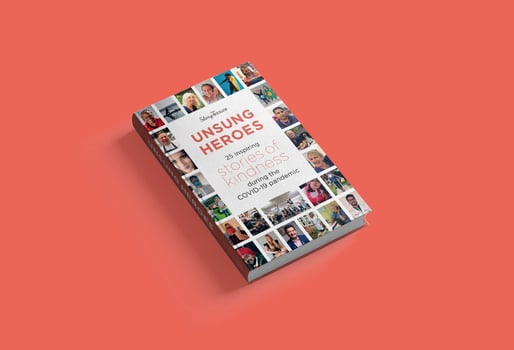 Our book officially launched on July 8, and you can order your copy on Amazon. When you purchase your copy, we'll donate a portion of the profits to two great charities: Maggie's, a UK organization that provides free cancer support, and Unity Unlimited, a US non-profit dedicated to providing educational activities and resources that foster unity and harmony within local communities.
The past year has been hard on everyone. As the pandemic turned life as we knew it on its head and put a temporary pause on our everyday lives, we felt isolation and loss on a scale larger than we could have ever anticipated. However, times of adversity also make us stronger, which was made clear by the special people who pulled together to help others through these difficult circumstances. From simple acts of kindness to saving lives — and everything in-between! — our unsung heroes showed that a bit of compassion can change the world.
Is there an unsung hero in your life whose story deserves to be told? Contact StoryTerrace or sign up for our newsletter to learn more about working with our professional writers to capture your loved ones' incredible deeds.