Memoir-writing service StoryTerrace honors the unsung heroes of the COVID-19 pandemic
Showcasing the incredible stories of the nation's everyday heroes during lockdown
With just two weeks remaining in the 'Unsung Heroes' campaign, leading biography StoryTerrace encourages communities to highlight local acts of kindness
To view all the Unsung Heroes submissions, visit the microsite: storyterrace.com/unsung-heroes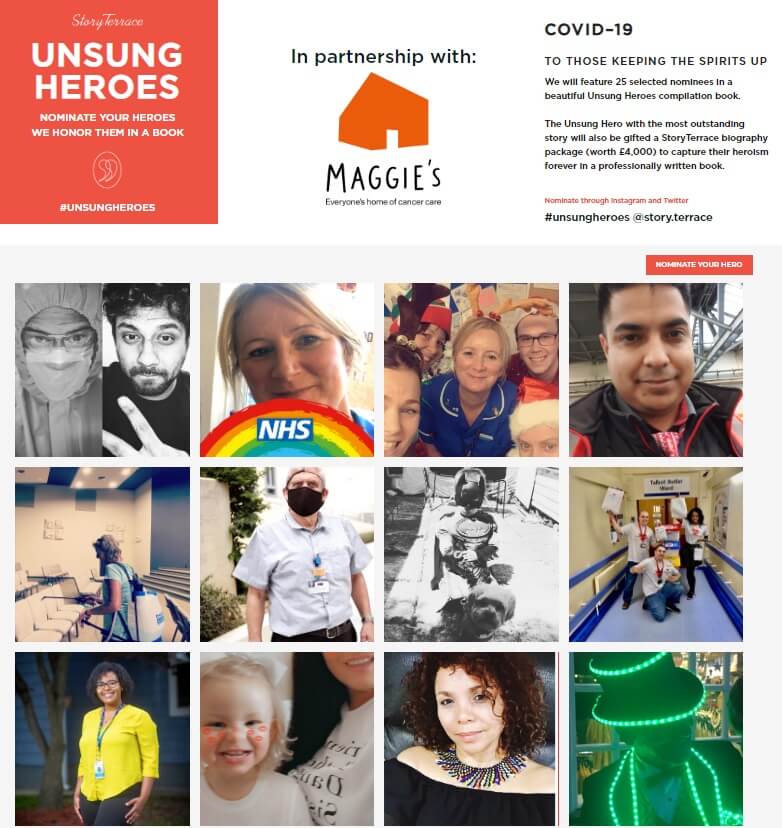 In the past two months countless stories of everyday heroism and unselfish acts have not only lifted the spirits of the nation but kept communities going through some extraordinarily tough times. Unsung Heroes aims to bring to light the everyday acts of kindness that have characterized this lockdown, from saving lives to feeding a neighbor's cat while communities recover.
Over 400 nominations have revealed some truly inspiring stories from every facet of society; countless frontline workers, a professional chef feeding teachers and children at a local elementary school and small business owners that have shifted production to masks and scrubs for medical workers.
The national biography-writing service will be creating a book, compiling the nation's everyday heroes and their unique stories of selflessness, and creating a website to showcase all those nominated at storyterrace.com/unsung-heroes .
Of the submissions, 25 amazing Unsung Heroes will be gifted with the final book, within which, their stories will be captured as part of a national keepsake.
The submissions will use an image of the nominee alongside a small paragraph of text explaining their story posted to social media, accompanied by the hashtag #UnsungHeroes and collated by StoryTerrace. The campaign allows anyone to nominate someone in their life who has gone above and beyond to help others– these could be nurses, doctors or even simply good samaritans.

How it Works
Anyone can nominate a hero on StoryTerrace's website: storyterrace.com/unsung-heroes

Alternatively, entrants can post on their Instagram, Facebook or Twitter by using the #UnsungHeroes hashtag and @StoryTerrace handle. The campaign is open for entries until June 30th, and StoryTerrace will announce the selected nominees before the end of July. All the entries can be found on the website.

StoryTerrace's 'Unsung Heroes' campaign has helped motivate community members to share the stories of heroes of the COVID-19 crisis.
Rutger Bruining, CEO and Founder of StoryTerrace comments:
"As millions around the globe are currently stuck at home, many of us are feeling nostalgic and reminiscing – and at StoryTerrace, we believe that sharing stories can be one of the most therapeutic ways for us to connect in this difficult time.
Through StoryTerrace, I have learned that above all, that a sense of community is vital for our mental health and wellbeing—and preserving and reminiscing on our own life stories is so important to our happiness. Documenting memories and the emotions attached to them allow us to share and reminisce on our personal tales – and everyone has a story worth sharing."
About StoryTerrace
StoryTerrace is a company which connects everyday people with professional ghost-writers, meaning that everyone can have their life story, or the life stories of their loved ones, documented in a professionally curated autobiography, biography or series of memoirs. They have a network of 600 professional writers worldwide, many of whom are critically acclaimed, and provide a range of packages to suit each individual life story.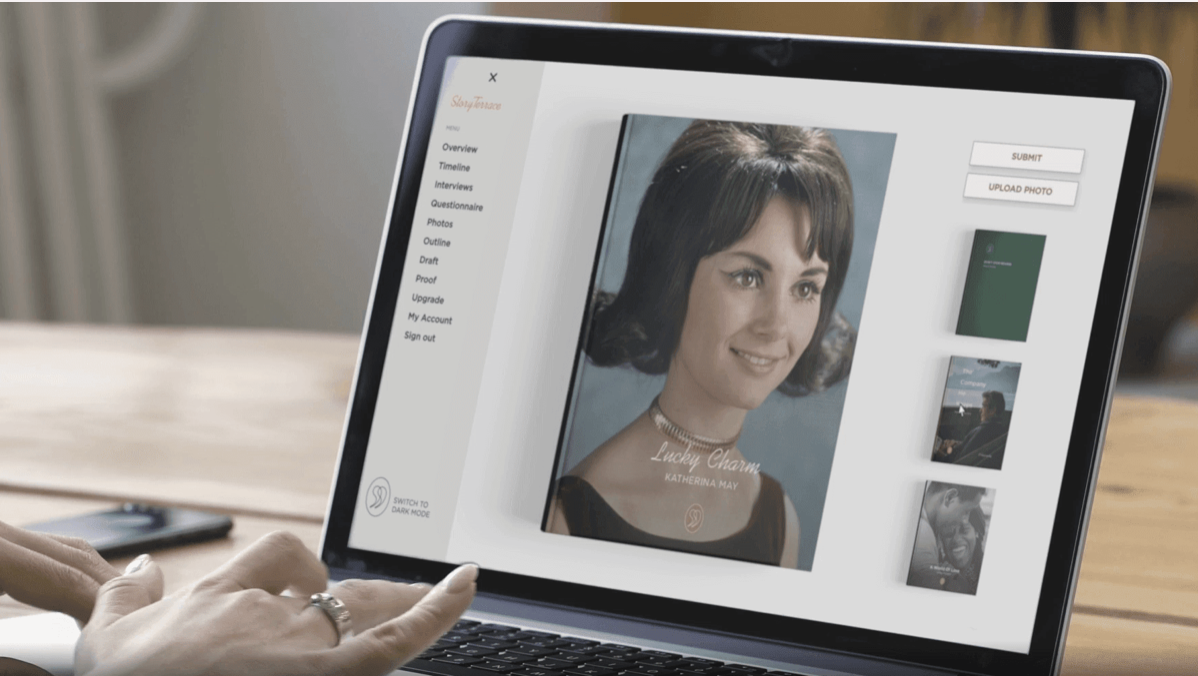 StoryTerrace's BookMaker platform - which includes a questionnaire - helps turn stories into books


StoryTerrace has previously made the first part of their service (a tailored questionnaire) available for anyone stuck at home who would like to get started on their life story for free. But having been overwhelmed by the acts of kindness and selflessness from around the country during this time, they have decided to pay tribute to these heroes through the 'Unsung Heroes' campaign.
If you would like to hear more about our Unsung Heroes campaign, please don't hesitate to contact us: press@storyterrace.com