US-based memoir-writing service StoryTerrace dominates UK's version of Shark Tank with two offers of investment
Scaling at speed across the US and UK by turning life stories into books

CEO Story: Founder Rutger Bruining left behind a career in private equity to help every-day people tell their life stories
The world's leading biography writing service, StoryTerrace, appeared on last night's episode of Dragons' Den – the UK's version of Shark Tank. The unique service received an emotional response from the 'Dragons' and offers from investors Touker Suleyman and Tej Lalvani.
StoryTerrace ultimately went their own way for investment – and in the time since filming the episode, went on to secure an impressive 15 times the investments that they were offered on the show.
Founded in 2015 by Rutger Bruining, StoryTerrace has scaled rapidly, making significant inroads into the US and UK markets simultaneously with offices in Los Angeles and London. The company now boasts a stable of over 600 professional writers across the globe and has sold book projects worth over $5million. Since recording Dragons' Den, it has doubled its sales. Given StoryTerrace's impressive growth thus far, CEO Rutger Bruining has demonstrated how to turn an artistic process into a scalable commercial proposition.
Much in the same way that celebrities work with ghost-writers to curate their autobiographies, StoryTerrace's service matches professional ghost-writers to everyday people, who are often gifted the opportunity to immortalise their life story by their children. Given that a third of people say that they've learned more about their parents' lives from overhearing conversations, than from speaking to them directly, it's not surprising that StoryTerrace has proven to be so popular.
In a world of tech startups, StoryTerrace is a company with a very human story
In a scale-up arena saturated with tech startups, StoryTerrace sets itself apart as one of the few companies with a truly emotive, human value proposition. With the rise of impact investing, more investors are now taking a keener interest in the emotive impact of the businesses they invest in – in StoryTerrace's case, the preservation of family histories for future generations. While these motivations do not replace the focus on returns, StoryTerrace represents a unique combination of a high-growth scale-up and a business which puts genuine human experience at the centre of its proposition.
Plans for scale
2019 proved to be a wildly successful year for StoryTerrace. The past 12 months has seen the company double its sales and grow its in-house team to 20 people. By the end of the year, StoryTerrace plans on growing its current pool of writers to a thousand-strong international roster of biography and memoir-writing professionals, as well as making several new hires in Los Angeles and London to accommodate the rapid growth of the company.
StoryTerrace's unique service is inherently scalable, both as a result of the appealing service and their proprietary software. StoryTerrace records the specific requirements and desires of each client and matches them to the perfect writer for the project, ensuring a high level of customer satisfaction.
StoryTerrace has also developed its own online portal, via which customers, writers and editors can seamlessly interact, share creative ideas and media material, and collaborate on the content of the book until the hard-cover, full-colour copies are delivered to their homes.
Rutger Bruining – CEO and Founder of StoryTerrace discusses his appearance on Dragons' Den:
"We are all hugely proud to appear, and be successful, on a platform as prestigious and well known as Dragons' Den. The feedback from the investors demonstrates both the significant consumer value and interest in our proposition while the two offers from such well respected business-people shows the financial viability of the idea which as a founder is incredibly gratifying.
After helping to record more life stories than ever before in 2019, we are really excited to see what the future holds. Our ambition is no less than to completely change how society captures and passes on stories. And that over the next 10 years it becomes the norm, not the exception, to have documented the life journeys of our grandparents and great-grandparents in their own words."
CEO story: Founder of StoryTerrace, Rutger Bruining
As the Founder and CEO of StoryTerrace, Rutger Bruining has a rather incredible story of his own. Born in the Netherlands, Rutger spent a lot of time with his grandfather, who was a member of the Dutch resistance in World War II. As a young boy, Rutger adored listening to tales of his grandfather's experiences, but he passed away before Rutger was able to record any of his stories. The passing of Rutger's grandfather proved a pivotal moment in his life which would come back to change the course of his career forever.
Rutger went on to build an impressive academic and professional resume, earning a degree in Business Economics from the University of Amsterdam and an MBA at Columbia University with Honors, after which he became Investment Director at Arle Capital in London. Despite his budding career in private equity, he could not shake the regret of neglecting to record his grandfather's life stories. In 2014, Rutger could not ignore it any longer, and left behind his private equity career to create a platform for people to chronicle their life stories, and those of their loved ones.
Rutger credits his grandfather's memory and the regret of his stories being lost to history as the motivation to begin what is now the world's leading biography writing service, and finds catharsis in his work, helping thousands of people to immortalise their family's greatest stories, forever.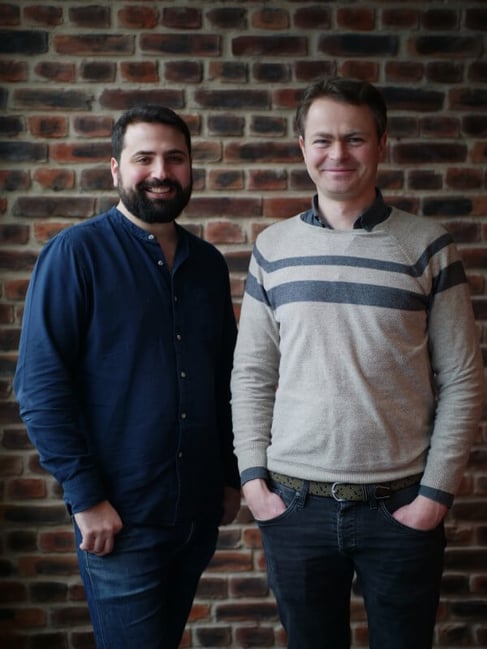 (Left to right) Theo Brainin and Rutger Bruining following their successful pitch on Dragons' Den
If you would like any further information on StoryTerrace or would like to speak with Founder and CEO Rutger Bruining, please don't hesitate to contact us: press@storyterrace.com


Get in touch with us to find out how you can write your memoirs with our help and sign up for our newsletter for more exciting news and content.