Knowing your grandfather's story makes you realize just how lucky you are.
Days before the World War II announcement, John Gibson — a 9-year-old boy with a typical childhood — had a curveball thrown at his life. Around 1939, London evacuated over 3 million children to protect them from air raids and the emotional scars of the conflict. John left his home with his siblings, Bill and Violet, leaving behind the life he knew, the city he enjoyed, his house and his parents.
Even though he didn't understand the hostility and tension of the war, he savored the scenic views of the countryside in Reading. He quickly adapted to his foster family's routines and started school. Over the years, he went back to London, rejoined his parents and other siblings, but ended up separated from them again and again. Yet these challenging circumstances didn't bear him down; instead, he cultivated gratitude, sought achievement and made things right.
Richard Keeley, John's eldest grandchild, gave him the gift of preserving those memories in a book named Our Grampa. The hardback memoir represents gratitude for the past, appreciation of the present, and achievement for the future. "It was around my grampa's ninetieth birthday, and I came up with the idea of the book. This gift is an appreciation to someone that went through a lot. He wanted to do better for his family, and I think that is one of the messages of the entire book," Richard explained during a delightful conversation with StoryTerrace.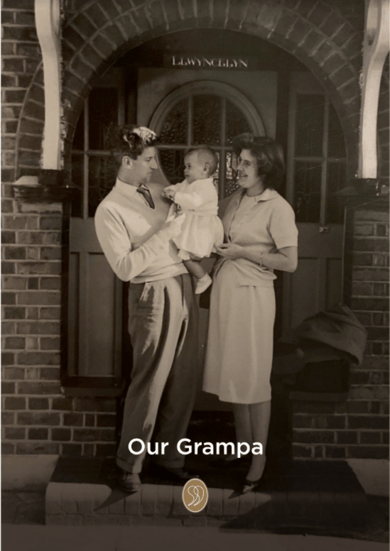 John and Ann holding their daughter, Siân, days after buying their first home.
Growing Up During the War
Richard discovered how hard life was in the 1940s when his grandfather was just a child. Back then, children packed gas masks with their suitcases and had to duck under their school desks when a warning sounded. That's how his grandfather, John, grew up during World War II, amid air raids, near-constant evacuations and intermittent reunifications with his parents.
Being an evacuee taught young John to adapt to complicated circumstances and to make rational decisions.
In Our Grampa, John reflects on how he has endured difficult situations: "Richard, my son, believes some of our ancestors must have been Stoics. We Gibsons are certainly a stoical lot, and this particular philosophical stance has often helped me to get through life."
Until the end of the war, John and his brother lived across different villages and small towns in the countryside. His education was also in turmoil. He joined a temporary school and enrolled as a scholar in a fee-paying institution named Emanuel School, where he met Trevor Jennet, his long-time friend.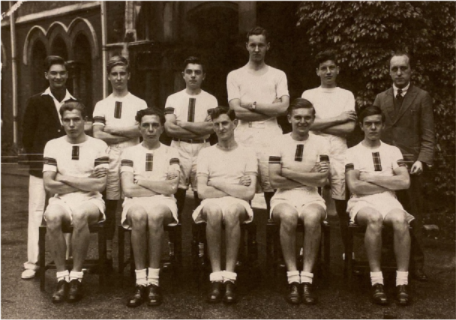 Emanuel School Boat Club, 1948.
Pursuing a Career in Accounting
After the war, the only thing that John wanted to do was to straighten up in the future, so he did National Service and studied to become an accountant.
When he finished his service and got back to London, he had to split from his family yet again. His father, John David Gibson, who had run pubs most of his life, had lost his job and was in poor health. He didn't receive compensation, and he couldn't provide housing for his children because, for the past 12 years, he'd lived on two pubs' premises.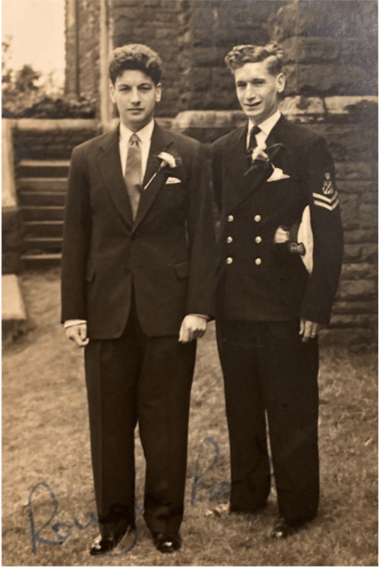 John and his brother Bill in 1956.
John was a chartered accountant and halfway through his training. During his family's difficulties, he found help through his friend, Trevor. Trevor's mother, Margaret Jennet, took him in and treated him as a son. John never forgot the kindness. "Trevor got a copy of the book and read it weeks before he passed away. It's comforting that he got the chance to read it and see how he appreciated them," Richard says, describing the impact of the Our Grandpa.
Life wasn't easy, but John pushed through. He met Ann Edwards, a teacher who later became his wife and mom of his two children: Siân and Richard. Together, they achieved their biggest goals. He became an internal auditor, and soon they bought their first house.
Grandson Richard emphasizes that the book's cover photo is his favorite because it represents an achievement. "It represents going from nothing to something big. That's a picture of success," he says.
John reached the peak of his career when he was in charge of Financial Planning at Black and Decker. There he would do what he enjoyed most: advising people on what they could do right.
After buying their forever home, John and his wife raised their kids and later enjoyed their grandchildren. "That house has positive energy. You go there and think: 'I'm going to have fun, have lots of sandwiches and cake!'" says Richard with a big smile.
After reading Our Grampa, Richard described the impact of the book on his life: "His priority was to do better for his family, for his children. It's the drive to do better for everybody else, to offer them a good life, and that comes back to my point of appreciation because you get to a place when I realize how lucky we are, and this book was a realization."
The Drive to Keep a Family United
John's story is rooted in Ireland, in a fishing village called Dalkey. His father, John David Gibson, was a "virtual orphan" who lived across institutional homes in his later childhood, a man who worked in pubs and also dug and installed Anderson Shelters.
In the book, John's son Richard explains that "The fragmented nature of his own family is why he is so keen to bring us all together. ... He is incredibly generous with both his time and with money, but spends very little on himself."
That desire to keep his family united above all led him to find an uncle called Jim that emigrated to the United States long before he was even born. "They didn't know each other until they were so much older. Suddenly, they became best friends in their forties or fifties," says Richard.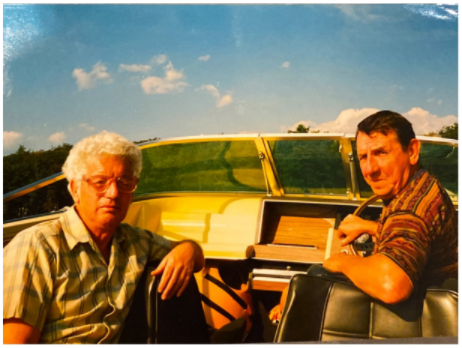 John and uncle Jim on the Lakes.
The Resilient Grampa
Eventually John retired from work and has enjoyed seeing his six grandchildren grow up and pursue their own goals.
He's a resilient man who gives the benefit of his wisdom to his family. After many rises and falls, he has taught his relatives the life skills that helped him through his journey, like the ability to adapt to whatever comes your way, being responsible for yourself, and above all, returning your gratitude to others.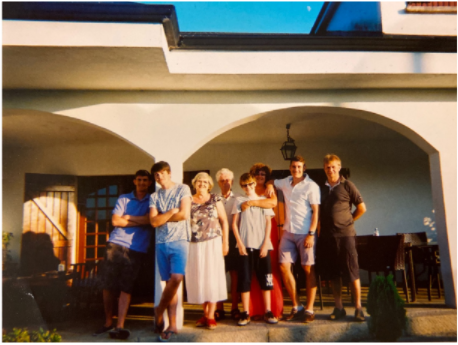 John with his family in Spain.
One of John's skills is his logical thinking, which has set a strong example for his family. In Our Grandpa, he describes it like this: "The human mind is like a computer ... it has a storage system and a processing system. A lot of people don't engage the processing system ... people do not bother to think things through before acting."
Grandson Richard loves this quote because it sums up his grandfather's worldview: "This is what he's like. He looks at people, he's calm, he would take a step back, and he would say: you just need to cool off, recollect, regather, and try again. He's right regarding this, and I liked that quote."
When Richard Keeley highlights the significance of the title of the memoir, he happily explains: "That's the idea of the book. To share with them [future generations of the Gibson family] who he is. It isn't just this old grampa who sits around and watches the BBC all the time. Ironically, it is more than just a grampa; he's Our Grampa."
Watch Richard explain the importance of his sharing his grandfather's story with younger generations:
If you'd like to honor a beloved grandparent by preserving their life story in a book, contact StoryTerrace or sign up for our newsletter to read more uplifting stories like John's.