Senior Writer
One of StoryTerrace's first writers, Neil Edwards knows how to draw out the drama inherent in every story.
Neil has been writing stories since childhood. Born in Liverpool, he attended the film schools at Bournemouth and Farnham, where he worked on almost 100 short and low-budget feature films. He has since written numerous scripts for stage, screen and radio. In 2013, he completed his master's degree at the Royal Central School of Speech & Drama. In addition to his work with StoryTerrace, Neil has written 10 plays for Lincoln's Shooting Fish Theatre Company. His most recent work is "The Murderess," a gothic thriller, which is set to tour the UK in the autumn of 2021.
Today Neil lives in Horsforth, a small town on the outskirts of Leeds, UK. He enjoys spending time with his wife and twin daughters, 7-year-olds who are ardent believers in unicorns and fairies — a fact for which Neil claims full responsibility.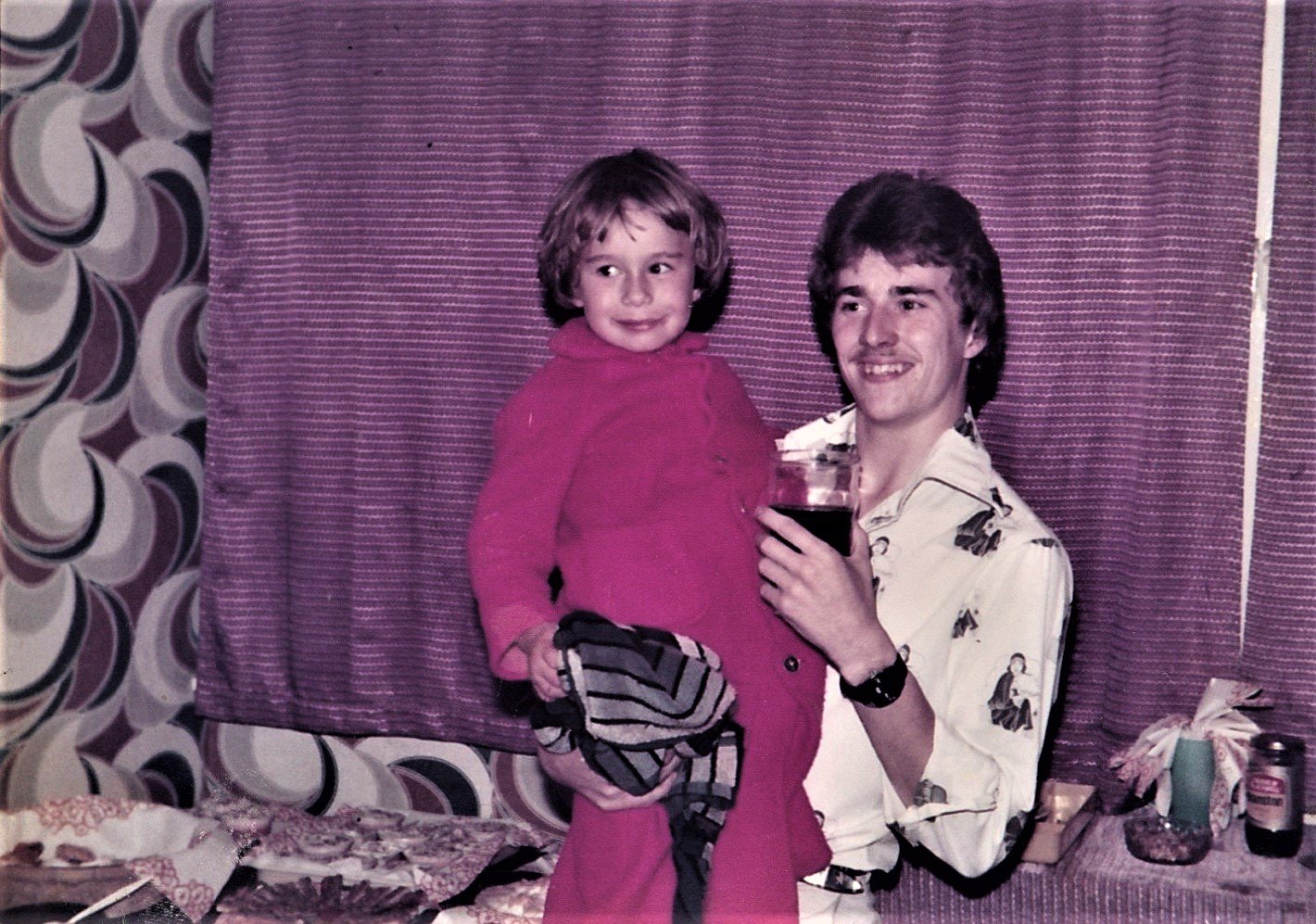 Neil with trusted comfort blanket in hand with a family friend, partying like it's 1977
ST: When did you first realize you wanted to be a writer?
I was looked after by my father's parents, both relics of the war, and very much shaped by it. Each morning, I would breakfast with my granddad, Tom, a barrel-chested ex-major who, as we munched on our marmalade toast, would feed me stories of his wartime exploits. He made them sound heroic, and himself like Clint Eastwood. But as the years wore on, I discovered there was another side to his tales. Each country's heroes are another country's enemies, I realized, and for every medal my granddad had once worn with pride, a gravedigger, somewhere, had worked up a sweat. What were their stories, I began to wonder, those whose lives he had ended or traumatized? All these lives connected, I thought, some for good, many for ill. I wanted to use words to find the thread that brought them all together, because words become stories, and stories can be shared.
ST: Why do you enjoy writing for StoryTerrace?
I've seen up close how transformative StoryTerrace can be in a client's life, and how profoundly the finished work can aid them in their ability to speak about difficult issues. For my first client, the Irish-born octogenarian, Mary Johnstone (left on the steps of a local priest's house at just one-week old), she was able to use her memoir to say things to her then-grown children that she'd never before been able to say. Long-buried secrets emerged and, for the first time — using words she'd struggled her whole life to find — those secrets could be aired, and then the healing could begin. This book, Mary Full of Grace, led to a three-page feature being written about Mary and StoryTerrace in Britain's Sunday Express magazine.
ST: Describe Story Terrace in 3 words.
Profound. Wistful. Cathartic.
ST: What is your idea of perfect happiness?
Sitting with my 7-year-old twin daughters on the sofa, watching a Studio Ghibli film, whilst sipping at our giant mugs of marshmallow-filled hot chocolate. If snowflakes the size of tennis balls could flutter down outside the window as we watched, that would be even more perfect.
ST: What is your biggest fear?
The idea that truth can be weakened to the point that it is considered just another opinion and can be easily dismissed as such.
ST: Consider your life story. What's the name of the chapter you're in right now?
"The Lights Stayed on Till Spring."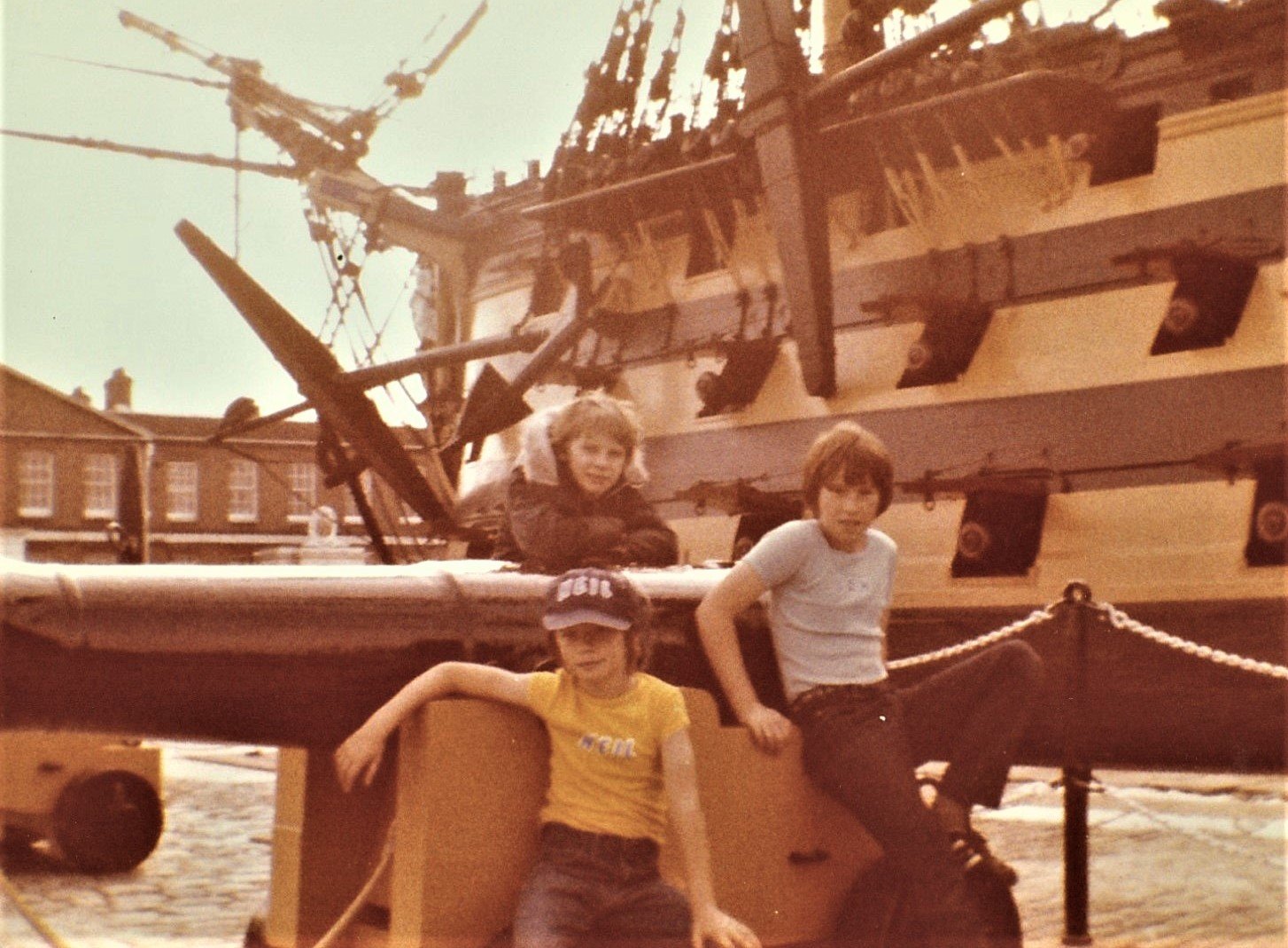 Neil with brother Ian and uncle Paul in 1979, posing in front of the HMS Victory, Admiral Nelson's flagship
ST: What's something that people would be surprised to learn about you?
That for two years (1989-1990) I was a chimney sweep-o-gram and appeared in dozens of bridal shows in and around the North West of England, bestowing good wishes upon Bambi-eyed brides-to-be — it was always brides, never grooms — in the preliminary stages of their plummet towards holy matrimony. [It's] a tradition that dates back to King George II, who believed chimney sweeps to be lucky, after one stopped his runaway horse and carriage, thus saving his life.
ST: What trait do you admire most in others?
Intellectual humility: the ability to recognize one's limitations and not feel threatened by a lack of knowledge on a particular subject.
ST: If you hadn't become a writer, what career would you have right now?
Film director. After five years at film school, it wasn't entirely a pipe dream, but the mechanics of the process soon felt a little tedious. And oh, the compromises!
ST: What is your most treasured possession?
My hardback, three-volume Penguin edition of The Arabian Nights: Tales of 1001 Nights, translated by Malcolm C. Lyons, which is rarer than unicorn droppings now. I unwrapped my copy on Christmas morning, 2009, precisely the same time as my then-girlfriend was opening her engagement ring. I devoured the stories, cover-to-cover, and made them last until the day she walked down the aisle with me nine months later, in a little Irish church. Sentimental reasons aside, they're just a rollicking good read. All of life is in them!
ST: What fictional character do you most identify with?
Edmond Dantès, chief protagonist of Alexandre Dumas' The Count of Monte Cristo. I mean, there's payback, and then there's that!
ST: What is your motto?
I'd been living and breathing this maxim for many years before I realized Gustave Flaubert had already found the words to express it: "Be regular and orderly in your life, so that you may be violent and original in your work." I'm not sure it's a great maxim for brain surgeons, though!
The Lightning Round!
ST: Dogs or cats?
Dogs.
ST: Introvert or extrovert?
Both, but the latter takes more effort.
ST: Morning lark or night owl?
A full, screeching parliament of night owls.
ST: Truth or dare?
The truth comes out anyway, so dare.
ST: X-ray vision or time travel?
Time travel.


If you'd like to work with a talented storyteller like Neil to write your memoirs, contact StoryTerrace to get started now, or sign up for our newsletter to read more about our writers and client stories.