Premium Writer
Helena Drakakis began her career in publishing as a non-fiction editor. As a journalist, she has contributed to both regional and national titles, including The Guardian and The Independent. She currently works as a freelance journalist and professional ghostwriter, discovering what makes the world tick and helping others bring their stories to life.
She is currently co-authoring our Unsung Heroes book, to celebrate the stories of 25 people who have gone above and beyond to help others during the COVID-19 pandemic. We will be publishing the book later this year.
Having reported from America, India, Africa and Europe, Helena loves travel, food, politics and the arts, in particular theater and dance. She currently resides in London.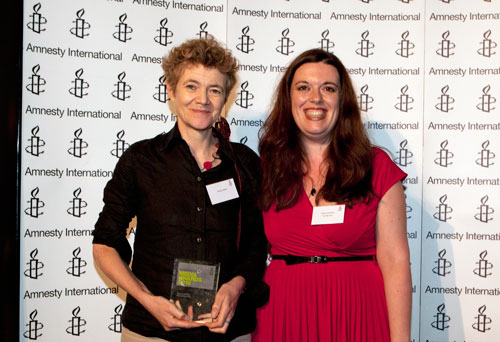 Vanessa Baird (left), co-editor of the New Internationalist, receiving an award, pictured with Helena when she was working at The Big Issue, a leading UK newspaper publication which is tackling homelessness
ST: When did you first realize you wanted to be a writer?
I don't recall ever having a Eureka moment, but I've always worked with fascinating people and with words either as a journalist or an editor, so writing was a natural progression. Ghostwriting is a great way to combine my insatiable curiosity, my interview skills and my writing skills.
ST: Whose biography would you most like to write?
My grandfather's. He lived through turbulent times in Greece and in the UK. And, like all grandchildren, I wished I'd known what to ask him while he was still alive.
ST: What is the most memorable story you've told as a writer?
Every story is memorable in its own way - big or small. I recently put together a set of stories for Story Terrace's Unsung Heroes project, and many of those, told from the frontlines of the COVID-19 pandemic, still resonate. Of the larger, commercial projects I do, an autobiography by the singer Amy Winehouse's mum certainly had an impact. But every story is unique — and never is what it seems on the surface.
ST: What is your idea of perfect happiness?
Great food, wine and strong coffee.
ST: What is your biggest fear?
Zip-wiring, skydiving or bungee jumping over deep water. In my view, there are far better ways to feel alive!
ST: Consider your life story. What's the name of the chapter you're in right now?
"Cross Roads." I am working on an exciting, but very frustrating, project for a major publisher at the moment. I'm quite cross on a daily basis! Plus, I am exploring writing my own book: Lockdown is giving me lots of time to think ...
ST: What's something that people would be surprised to learn about you?
My not-so-secret love of Elvis.
ST: What trait do you admire most in others?
Authenticity.
ST: If you hadn't become a writer, what career would you have right now?
I once told my school's career advisor I wanted to be a butcher. I suspect the authors whose books I edit might say I have indeed followed that path!
ST: What is your most treasured possession?
A clock that was saved from a sinking ship during the Spanish Civil War. It was given to my grandfather by the captain to thank him for helping to save the crew.
ST: What fictional character do you most identify with?
Oly Binewski — the hunchback, albino dwarf narrator in Katherine Dunn's cult novel Geek Love. It's a life-changing novel.
ST: Who is your hero?
Probably Gandhi. Hind Swaraj is still one of the most progressive texts, even though it was written in 1909. And, like all good reads, it was banned by the government.
Lightning Round!
ST: Dogs or cats?
Cats.
ST: Morning lark or night owl?
Night owl.
ST: Paperback or e-reader?
Paperback.
ST: City or country?
Both in equal measure.
ST: X-ray vision or time travel?
X-ray vision.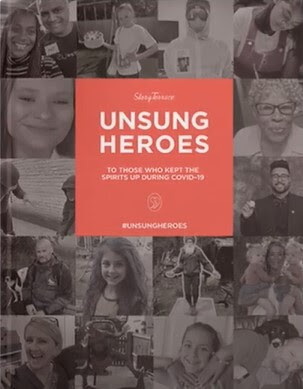 A mockup of what the Unsung Heroes book that Helena is working on could look like
If Helena's passion for storytelling has inspired you to get to work on your own biography, get in touch to schedule a free consultation. You can also use our Writer Search Tool to find the perfect writer for your project today.
If you'd like to find out more about our campaign and upcoming book that Helena is involved with, visit our Unsung Heroes microsite.