Everyone has a story to tell, and sometimes the most amazing stories come from those who have been around the longest. Our elderly relatives have witnessed history and often made history themselves. We think their stories should be celebrated — and we're not the only ones who feel that way.
Indeed, the United Nations recognizes the importance of listening to and learning from older people, saying that "Older people have always played a significant role in society as leaders, caretakers and custodians of tradition."
With that in mind, the stories of care home and assisted living residents deserve to be preserved, recorded, and shared in whatever form fits them best. Here are some initiatives that are doing just that, along with some of the most intriguing stories they've captured.
The Museum of Life Histories
This museum, based at the Hof Speicher Retirement Center in Switzerland, was founded in 2005. Inspired by the rich and fascinating lives of the residents at the Center, the staff began recording life stories and turning them into exhibits for the general public.
That's how Gertrude Rodowski-von Känel was able to tell her story. Gertrude was born in 1911 in what was then East Prussia. After an idyllic adolescence, she and her husband lived through the advent of the Second World War. During this turbulent time, she risked everything to flee the Nazi regime and spent many years traveling before finally finding a place to call home: Switzerland.
The historic importance of Gertrude's story is obvious, but it's also an incredibly moving tale of bravery and resilience that might inspire anyone facing adversity. Thanks to the Museum of Life Histories, people from all over the world can learn from her example. And that's just one of many stories that have surprised and delighted visitors to this unique museum over the years.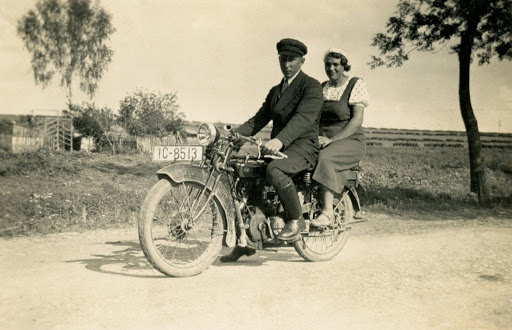 Gertrude Rodowski-von Känel and her husband Friedrich in 1940
Memoir Writing With Technology
Many nursing homes and long-term care residences recognize the value of reminiscence, and some even have memoir-writing initiatives of their own. These take a range of different forms, but they always have one thing in common: Technology plays a part in making them work.
Rhona Handcock is one care home resident who benefited hugely from technology when it came to writing her memoirs. Based in a care home in the UK, she was able to take on the project herself despite being declared legally blind in 1996. This was thanks to a specially modified computer with an enlarged keyboard and screen.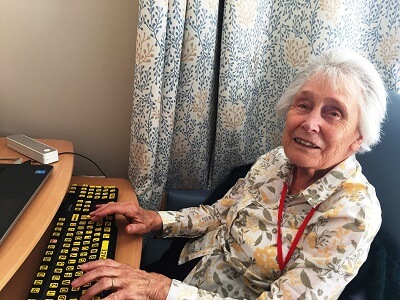 Rhona Hancock typing up her life story at Hastings Court Care Home
Technology often has a role to play in capturing stories and making them available for future generations. That tech might be an accessible computer, but it might also be a Zoom call or FaceTime chat. Technology can help keep people connected and allow us to learn about the lives of our relatives even when we can't see them face to face.

Two Cups of Tea
Technology can be used in the sharing of stories, too. The Two Cups of Tea podcast is a great example of this. Run by author Chris Heath, this fortnightly podcast captures the stories of elderly people in the form of a conversation over — you guessed it! — a cup of tea or two.
In one episode, the podcast captured the story of Barry Ward, a man who had experienced his fair share of adventures in his life. Barry had done a little of everything, from traveling Europe as a competitive boxer to working as a police constable in Bermuda. During his later career as a journalist, he met a dazzling range of famous personalities, including Muhammed Ali.
Each episode featured someone with a story just as incredible as Barry's. As podcast creator Chris Heath said,
"What I've found is that it's not the amazing deeds or achievements that are necessarily the standout moments, but the commonalities and the familiar details that unite us. I have honestly never laughed so much in my life as with the people I've been recording with. First and foremost, this podcast aims to show that everyone has a fascinating story to relate, regardless of age or circumstance."


StoryCorps
StoryCorps is an innovative, Emmy award-winning organization dedicated to capturing and sharing personal stories. Their Memory Loss Initiative is focused on recording the stories of older people living with dementia.
There's plenty of research showing that speaking, listening, and telling stories from the past can be of great benefit to anyone. When it comes to people with memory loss, storytelling has been shown to improve memory as well as mood and happiness.
Barbara Handelsman is one woman who worked with StoryCorps on this initiative, during which she and her grandson shared memories of past adventures. These included exploring a river in inflatable canoes, and venturing past No Entry signs in the woods. It's easy to see how the process of recording memories often leads to long-forgotten moments and surprising revelations coming to the surface. Listen to a sample below to hear the power of storytelling in action:
Listen to Barbara Handelsman reminiscing on personal memories with her grandson

In Conclusion
StoryCorps, the Two Cups of Tea podcast, and many other initiatives all have one very important idea at heart: that everyone has a story worth telling. That's why it's vitally important to talk to our elderly relatives — especially those who require additional care. Doing so is illuminating and enlivening for everyone involved, and it also brings out amazing stories might never be heard any other way.
If you want to give someone the gift of their life story, professionally written and bound, try a StoryTerrace biography. Get in touch to find out more about how it works and schedule a preliminary chat, or sign up for our newsletter for more about the work we do.