A book takes a lot of time and expertise to get right. At StoryTerrace, we've overseen the creation of more than 2,000 biographies, so we have a good idea of just how much work is involved!
In addition to the actual writing of your book, there's plenty more that happens along the way to get to the final product. There's the preparation of the cover and images, laying out the text for printing, and — if you're planning on self-publishing your memoir — a whole lot of promotional work, too.
Of course, you don't have to take on all those tasks alone. When you work with StoryTerrace, we handle all of the difficult technical parts of the process for you. That leaves you with the time to do the thing that only you can do: tell your story.
Once you've done that, our team of experts will do the rest. Let's meet a few of them.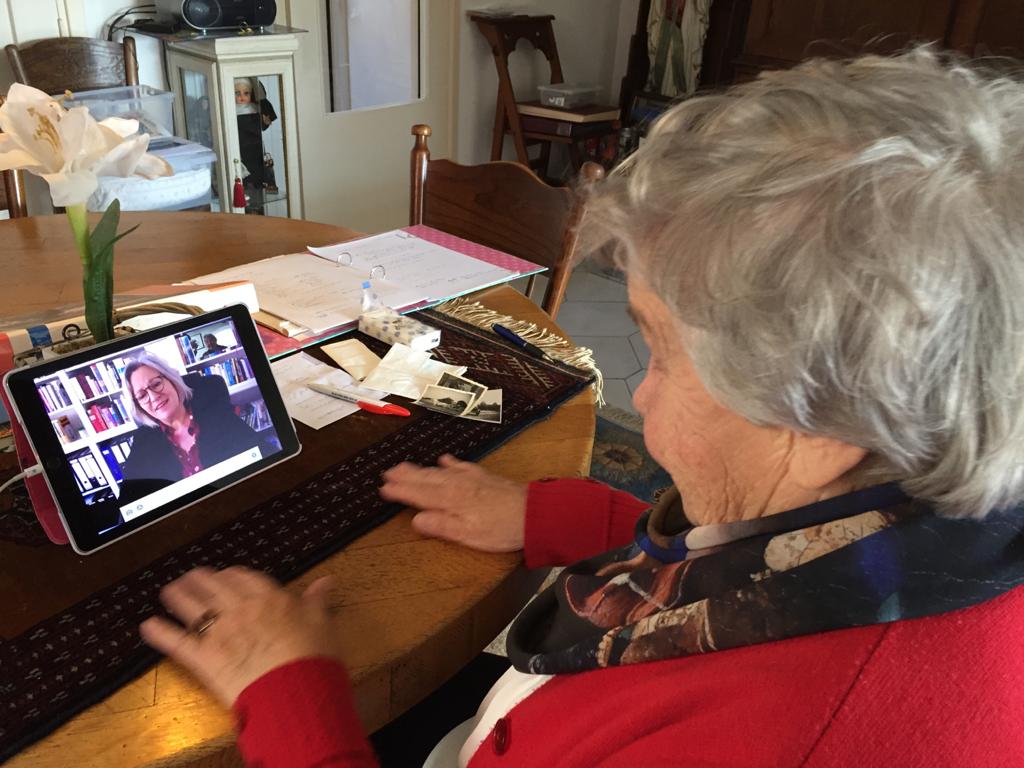 Our client Sophie on her very first video call of her entire life with StoryTerrace writer Saskia!



Our Pool of Writers
StoryTerrace has hundreds of talented writers from all over the world in our database. These include published authors, accomplished journalists, freelance writers, and a number of award winners. You can find out more about each of them on our author profile pages.
Having so many vetted writers available means you can find one who suits your style and can help you tell your story exactly the way you want to tell it. Want a writer local to you, or someone who was born in the same decade? You'll probably be able to find one in our database.
Your chosen writer is the person you'll be seeing the most of during your journey with StoryTerrace. They'll be responsible for interviewing you, compiling notes and putting together the text of your memoir. Your writer is someone you can bounce ideas off of, share memories with and ask any questions you have about the best way to get your story across.




These are just some of our talented writers - we have over 600 globally for you to be matched with!



Our Editors
Your writer isn't the only person who works on the text of your book. Before going to print, your memoir will also be read by one of our sharp-eyed editors. Their job is to catch any errors, flag any parts of the story that don't quite work yet, and generally make your story as close to perfect as possible.
When you go it alone you have to contend with finding, assessing, negotiating with and paying a qualified editor. With StoryTerrace, editing is all part of the package. In fact, by the time you see a draft of your memoir, it'll already have been reviewed by one of our experienced editors.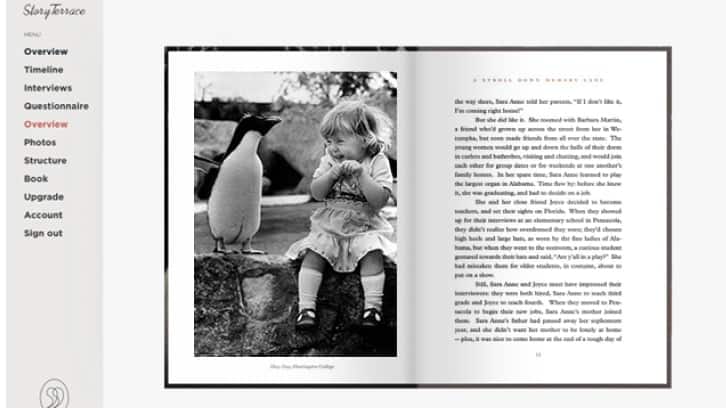 With our BookMaker tool, we're making it easier for our you to see the progress of your book

Our Designers
Now that you have the text of your memoirs, how can you transform that into a complete, bound book? This is where our design team takes the reins. Working with your photographs and your input, they'll create a professional-quality cover and also make sure that any photos featured inside your book look the best they possibly can.
The design team is also responsible for taking the text created by you and your writer and arranging it on the page ready to be printed. That means setting margins, adding in page numbers, placing images in just the right spot, and styling your chapter headings, dedications, and annotations.
Our Printers
Once our design team has perfected your print-ready files, you'll have the opportunity to look over a digital copy. Whereas before you only had the text of your story to work with, now you'll be able to see everything, from the presentation to the positioning of images. This is exactly what your book will look like once it's in print.
And if something doesn't look quite right? Just say the word, and we'll take care of it. Likewise, if your book is good to go, all you have to do is say so. We'll send it off to the printer and take care of communicating print specs and shipping the finished product to you.



Receiving the finished book copies in the mail is the most satisfying moment for many of our clients


Our Publishing Experts
For many of our storytellers, we've reached the grand finale of the process. With a beautiful bound book in hand, they're ready to share their story with friends and family, shelve it for future generations, or simply enjoy the process of revisiting their memories.
If your story is for a wider audience, though, we can also help you reach them.
If you choose not just to write but also to self-publish your book with StoryTerrace, you'll have our team of promotional experts on hand to help. They can assist you with every part of the process, from getting your book on the virtual shelves of retailers like Amazon and Barnes & Noble to approaching reviewers and the press.
Promoting a book is almost as big a task as publishing one. If you've never done it before, it can be hard to know where to start. Working with StoryTerrace gives you instant access to our contacts and our promotional know-how — something that can give your book a boost when it needs it most.
Our Years of Experience
Between your writer, your editor, your design team and your promotional team, you'll be working with a group of experts who have decades of collective experience in memoir creation and book publishing. Our experience means that we handle the process smoothly and professionally.
Going it alone requires a steep learning curve, and it's a process that can take years to master. We're always happy to save our storytellers the time and trouble by lending them our years of experience instead.
In Conclusion
At StoryTerrace, we offer our services as a package – and it's a package that contains a great deal of expertise and experience. Writing a book is a big job — but with the right team on your side, it doesn't have to be a difficult one.



Ready to start writing your memoirs? Or want to talk about the possibility of publishing a book? Get in touch and schedule a quick chat to see how we can help, or sign up for our newsletter to get more updates in the future.