We are excited to announce that StoryTerrace made an appearance on the BBC hit show Dragons' Den on Sunday evening.
Our CEO & Founder Rutger Bruining, together with Marketing Director, Theo Brainin, entered through the Den's lift doors, featuring in the 17th series of the long-running BBC programme, the UK's version of business show Shark Tank.
It's pretty similar to the US version, except in the UK we pitch in pounds not dollars, and the multi-millionaires you pitch to are called "Dragons" instead of Sharks!
The duo pitched for investment in what is already the leading biography writing company in a bid to accelerate the speed at which the business is scaling.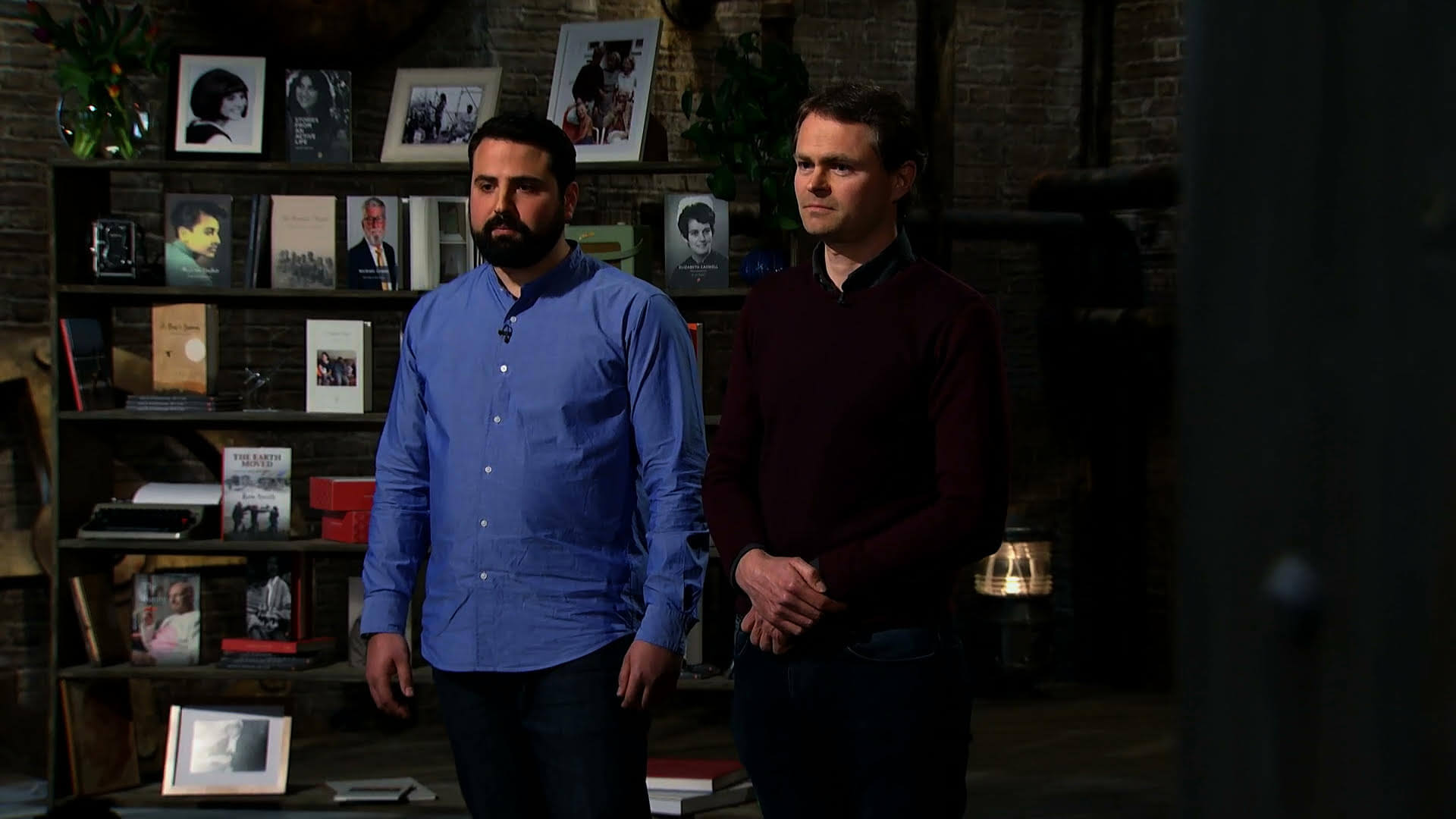 Theo & Rutger took on the Dragons, with a selection of StoryTerrace books proudly on display!
The Dragons´ were intrigued by our story, with Dragon Sara Davies in particular being moved by Rutger´s reason for starting the company.
What impressed them even more was being gifted with their very own StoryTerrace biography. Another of the Dragons, Touker Souleyman, exclaimed "Wow! There's my book" while a third, Deborah Meaden, excitedly said "I love a present!".
After receiving a thorough grilling, with Deborah Meaden pushing for more stats and the last remaining original Dragon from the very first season of the show, Peter Jones, flashing his rainbow socks, Dragon Tej Lelvani finally shook on an investment deal after some tense negotiations!
This time tomorrow there'll be pitching and possibly, er, riching! Dragons' Den is at 9pm on Sunday on @BBCTwo…and here's a sneak peek at the forthcoming action! pic.twitter.com/zNFriusmYz

— BBC Dragons' Den (@BBCDragonsDen) March 14, 2020
"Little did I know that I had signed myself up to be grilled on British national TV!"
Enter Dragons' Den
Dragons' Den first aired in the UK in 2005 and invites promising entrepreneurs to pitch their ideas to 5 multimillionaire investors in under 3 minutes, in the hope of striking an investment agreement in the Den.
Notable contestants include Levi Roots, inventor of Reggae Reggae Sauce, who came into the Den singing with a guitar - and went on to outsell Heinz beans - the UK's leading baked beans brand - on the supermarket shelves!

A teaser from the current series of Dragons' Den
Meet The Dragons
Peter Jones
, telecoms magnate who consistently makes the Sunday Times Rich List (which showcases the wealthiest individuals in Britain) with an estimated wealth of £490 million in 2018. He is also the

last remaining original Dragon

from the series.
Tej Lalvani

,

scale-up master and CEO of the multinational vitamin company, Vitabiotics, which was set up by his father and works with the likes of Heidi Klum and Nicole Scherzinger.
Deborah Meaden
,

all-rounder investor who launched her first company at aged 19, and went on to sell her family's amusement arcade business - Weststar Holidays - for £33 million. She has
invested more than £3.7 million in the Den since she joined in 2006.
Touker Suleyman

,

fashion and retail guru, with over 40 years' industry experience. He acquired British menswear brand Hawes & Curtis for £1 in 2001, when the company was £500,000 in debt and grew it to

£30 million just 13 years on. He is also credited with reviving London fashion label, Ghost.
Newcomer

Sara Davies

, crafting queen and the

youngest ever Dragon

to sit in the investor chairs. She launched Crafter's Companion from her college dorm. The business is now worth £35 million and employs 200 people worldwide.
"Hopefully the exposure will help more people to realise that they don't need to lose the stories of the people they love."



StoryTerrace Dream Team
Meet Rutger
Dutch-born Rutger, built the company from scratch, leaving behind a career in private equity to build a service that allows everyone to turn their life story - or those of their loved ones - into a book:
"The process Theo and I went through with the support of the entire team has been long and nerve wrecking but above all incredibly exciting. I was looking forward to finally being on air. Some say patience is a virtue but it was about time the secret came OUT!

Our goal is to make sure in the future every life story is captured so people can learn about their grandparents in a way that seems unimaginable now. Hopefully the exposure will help more people to realise that they don't need to lose the stories of the people they love."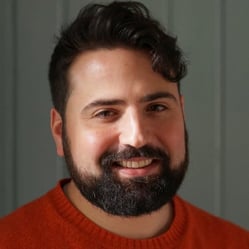 Meet Theo
Theo, a born and bred Londoner, joined StoryTerrace four years ago. He never had the chance to meet his South African grandfather, but he did get to read about him in a booklet put together by the family. When he saw that StoryTerrace was making it possible for everyone to read about their parents and grandparents, he knew he had to join the company:
"When I heard we might be on the show, I idly asked Rutger if he was going to do it by himself. A few weeks later I got a call - "remember you said you wanted to go on Dragons' Den?". Little did I know that I had signed myself up to be grilled on British national TV. Be careful what you wish for!"
"After waiting in anticipation for several hours we were surprisingly calm and ready to go - finally the prep was over! This was the real deal"
Behind the Scenes
When Rutger got the call inviting him to apply for the show, this proved to be only the first chapter in his TV journey! An extensive process ensued - auditions, interviews, due diligence checks, display preparations, script run-throughs - culminating in their televised pitch in the Den. Ever wondered what goes on behind the scenes?
Theo remembered a lot of frantic chasing in order to secure all of the props for the display table and bookshelf: "we drove all the way across London to source an antique typewriter we could use on the set, we scoured plant shops to add some greenery and I asked my girlfriend if I could use her clock radio - every little detail of what you see on TV took some thought, and I was agonising back and forth over what it should look like!".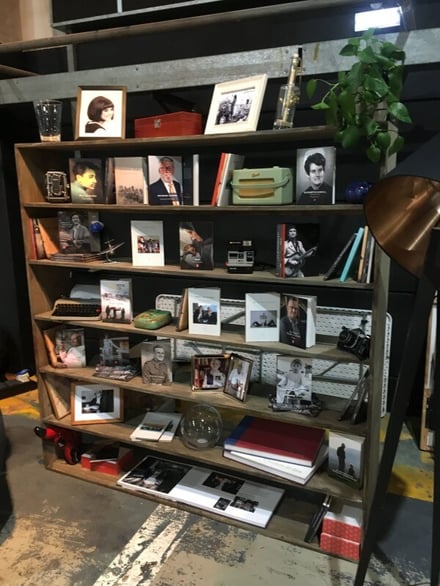 Our bookshelf display, which featured many of our lovely clients' books as well as some personal
memorabilia!
Once the props were in place, did he have any other reservations about entering the Dragons' lair? "At first, I was a little nervous that our valuation would put off the Dragons" as the duo initially asked for £90,000 investment in return for 5% of the business "I knew that we were further along in our startup journey than some of the other contestants but usually it seems that, if the Dragons believe in your concept, they'll make an offer".
Rutger had a slightly different approach to getting ready for the Den: "I knew we had a lot to prepare before the show, including securing permissions to display books from customers as far away as Switzerland and Kuwait".
But he decided he wasn't going to sweat the small stuff: "I was trying to remember all the numbers for the business. As contestants, we didn't know the order of when we would be entering the Den but after waiting in anticipation for several hours we were surprisingly calm and ready to go - finally the prep was over! This was the real deal now".
"Dear Dragon Diary…got up, breathed fire, made life-changing investments, slept." #dragonsden pic.twitter.com/dQjE6FcA3L

— BBC Dragons' Den (@BBCDragonsDen) March 15, 2020
Theo was surprised at the level of due diligence that was needed to be carried out by the BBC team: "I was even asked to provide proof that my grandpa was in fact my grandpa - because I'd talked about him being a lawyer for Nelson Mandela. But it shows that they take it seriously!
Commenting on the outcome of the result, Rutger said: "we were delighted to receive offers from both Touker and Tej, which showed their belief in our mission for the business. We were slightly torn over our ultimate decision, but Tej was my favourite investor going in. When it came to the deal itself, it got so complicated that no one could recite it! Peter even jokingly asked Tej if he knew exactly what the deal he had agreed on was!".
That @BBCDragonsDen winning feeling 🙌🏾 @rutgernow @theobrainin #DragonsDen pic.twitter.com/tf8ervSO2r

— StoryTerrace (@StoryTerrace) March 15, 2020
And what happened straight after? Theo shared: "It's hard to know how you celebrate an offer of investment when you have to keep the outcome a secret from everyone! So we kept it low key - and decided to head to a fast food joint at the rest stop on our long drive back to London!"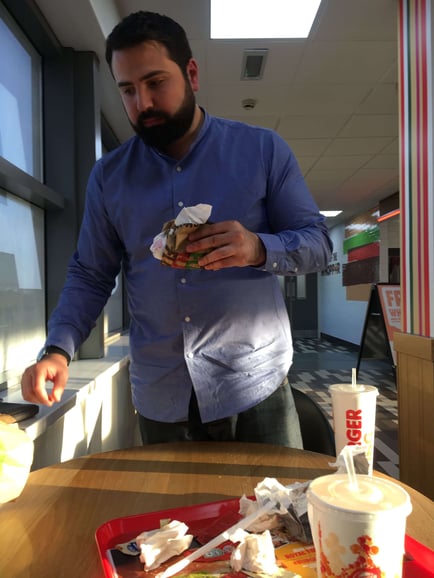 Fast food was the order of the day after a long but rewarding day in the studio!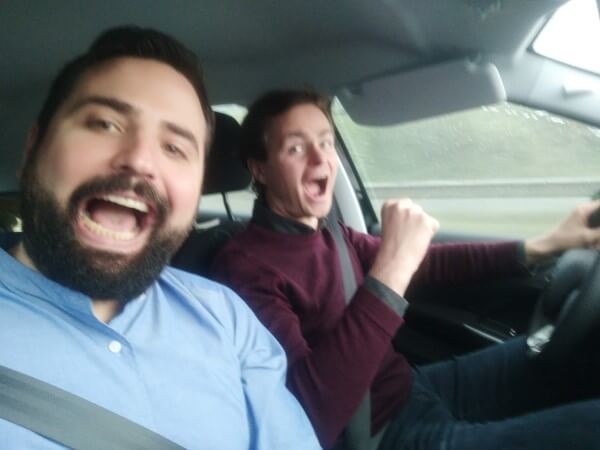 Hitting the road back home with a smile and a selfie
Reflecting on life after the show, Rutger added: "it's strange to look back after so long. Since filming wrapped, the business has been doing really well and we managed to raise more money at a higher valuation than in the Den. We're excited to enter a new chapter and to create more awareness about a business we are so passionate about".
How can I watch it?
Unfortunately you can only currently watch the show back in full on iPlayer if you're based in the UK. However, you can see sneak peeks of the show on our blog, and on the BBC Dragons' Den social media account.
For the full low-down - including spoilers! - check out our official press release.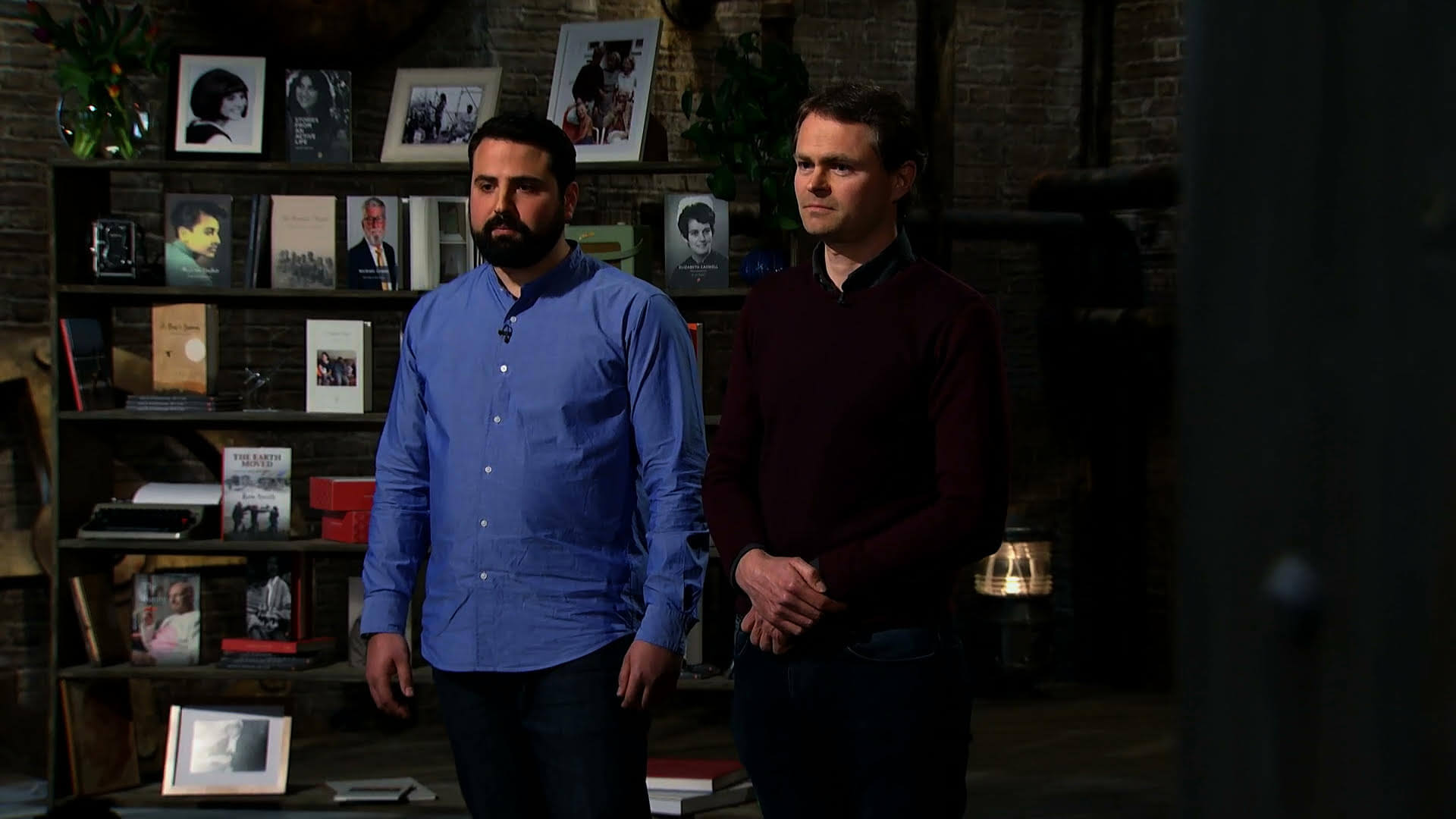 Theo and Rutger take on the Dragons, with a selection of our StoryTerrace books proudly on display!
Tell us what you thought! We'd love to hear your comments via (social media or email). Tweet using @StoryTerrace and the hashtag #DragonsDen.

Get in touch with us to find out how you can write your memoirs with our help and sign up for our newsletter for more exciting news and content.