Most books have something special tucked away in the first few pages: a dedication. This is a short note from the author, honoring someone (or something) of special importance to them.
It's a pretty big deal to have a book dedicated to you, and it's something that only a small number of people ever get to enjoy. Indeed, dedications are usually reserved for the close friends and family of authors. JK Rowling, for example, dedicated her first novel to her daughter, her mother and her sister.
When it comes to your book, it's completely up to you to decide whether or not to include a dedication, and who to honor with it if you do. Here are a few of our favorite dedications from books old and new.
Our Favorite Book Dedications
CS Lewis's The Lion, the Witch, and the Wardrobe
My dear Lucy. I wrote this story for you, but when I began it I had not realized that girls grow quicker than books. As a result you are already too old for fairy tales, and by the time it is printed and bound you will be older still. But some day you will be old enough to start reading fairy tales again. You can then take it down from some upper shelf, dust it, and tell me what you think of it. I shall probably be too deaf to hear, and too old to understand, a word you say, but I shall still be your affectionate Godfather, CS Lewis.
This touching dedication was written by CS Lewis for his godchild Lucy Barfield. It's a great idea to dedicate a memoir to a child, grandchild, niece or nephew — even if they might be too young to fully appreciate it right now. A dedication lasts forever, after all.
Jack Kerouac's Visions of Cody
Dedicated to America, whatever that is.
You don't have to dedicate your book to a person at all. Jack Kerouac's dedication for his cult novel Visions of Cody goes to show that it's just as viable to recognize a meaningful place instead.
Kiera Kass's The Selection
Hi, Dad! *Waves*
Dedications can be simple, and you don't have to take them seriously. Remember, you can do whatever you want to with your book. If something sincere and serious doesn't suit your memoir, pick something fun that your friends and family will recognize as uniquely you!
Neil Gaiman's Anansi Boys
You know how it is. You pick up a book, flip to the dedication, and find that, once again, the author has dedicated a book to someone else and not to you. Not this time. Because we haven't yet met/have only a glancing acquaintance/are just crazy about each other/haven't seen each other in much too long/are in some way related/will never meet, but will, I trust, despite that, always think fondly of each other! This one's for you. With you know what, and you probably know why.
Neil Gaiman took the unusual step of dedicating his novel Anansi Boys to none other than you, the reader. We love the tone of this dedication, too. It shows that you can speak directly to a specific reader (or many readers) in your dedication if you want, just as you would in a personal letter.
Three Tips for a Great Dedication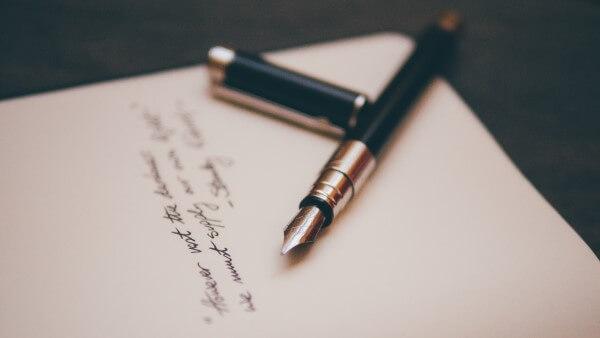 Feeling inspired? Now it's time to decide on the dedication for your memoir. Here are some different approaches you might take.
Pick Just One Person
You'll almost certainly have more than one person you want to acknowledge in your memoir. After all, lots of different people contribute to any life story. But how can you include them all without your dedication taking up multiple pages?
When choosing your dedication, you might want to focus on just one important person, place, or idea. Don't forget that you also have an afterword to play with. An afterword comes at the end of a book, and it's a great place to include a note of thanks to everyone who helped make your life story happen.
How Did They Help?
Now that you know who you're dedicating your memoir to, what should you actually write? A good guideline is to thank the person by name, and then let everyone know how they've helped you. Did they help collate the notes for your memoir? Did they encourage you to go ahead and tell your story? Or were they simply there for you with a cup of tea, ready to listen when you needed to talk?
Whatever they did to help you out, this is your chance to tell the world. A dedication is certainly something that will last longer (and look even better on a shelf) than a thank you card!
Consider an Epigraph
An epigraph is a short quote from another book or a piece of poetry, selected by the author and printed in place of (or in addition to) a dedication. If you're having a hard time settling on a dedication for your life story, perhaps you could include an epigraph instead.
Some of the most famous books of all time have included epigraphs, from Frankenstein to The Godfather and To Kill a Mockingbird. Adding one to your memoir will allow you to set the tone without having to pen a single word yourself.
Ask for Help
Sometimes a conversation with the person you wish to dedicate your book to can help kickstart your creative flow. Take them out for coffee or sit down with them over dinner and have a chat. You may soon find that you have plenty of ideas about what to write.
You can also ask your StoryTerrace ghostwriter for a hand when it comes to picking a dedication. Having interviewed you, they'll know your story well and can help put together the perfect message to dedicate your book to that special someone.
Before Dedicating Your Memoir
Before crafting a dedication for your memoir there's one important step you must take: actually writing it. That's no small task, but with a little help from StoryTerrace you can get it done quickly and to a professional standard. Our talented writers listen to your story in your own words and turn it into a beautiful, bound book that you can share with friends, family and the world.
With that in mind, there's one more person to thank. You story could never have been written without you. You lived it, and you told it. So perhaps you might want to do what Connor Franta did in his book Note to Self, and dedicate your memoir to a very important person:
To me.
Need a hand getting your memoirs down on paper? StoryTerrace are here to help. Get in touch to schedule a quick chat about how you can turn your story into a beautifully bound book that anyone would be proud to have dedicated to them.
You can also sign up for our mailing list for more updates about memoir writing.