Sue Stevens' girlhood is the stuff of children's adventure stories. For the first 13 years of her life, Sue lived in The Gambia, insulated from the outside world by lush vegetation and a constant blanket of heat and humidity. In Sue's memory, she was surrounded by people who had never spoken a sarcastic word in their lives, and she could experience perfect silence just by stepping out her door and into nature.
This stands in stark contrast to the life Sue — and the rest of us — experience today, as we're surrounded by people hurrying from place to place, the rush of traffic, and all the noise of modern life. Though Sue has lived most of her life outside of Africa, her formative experiences here shaped the rest of her days.
It was Sue's older sister Lyn's idea to preserve the family memories of their time in Africa. One year she gave a writing pad to all of the siblings and asked them to write their memories of Africa, with the goal being to compare notes and trade the notebooks with each other.
"I'm not very good with computers," Sue laughs, explaining how difficult it was to write the story on her own — even though she very much wanted to. "I needed to bring someone in to help me so it could be the best it could be."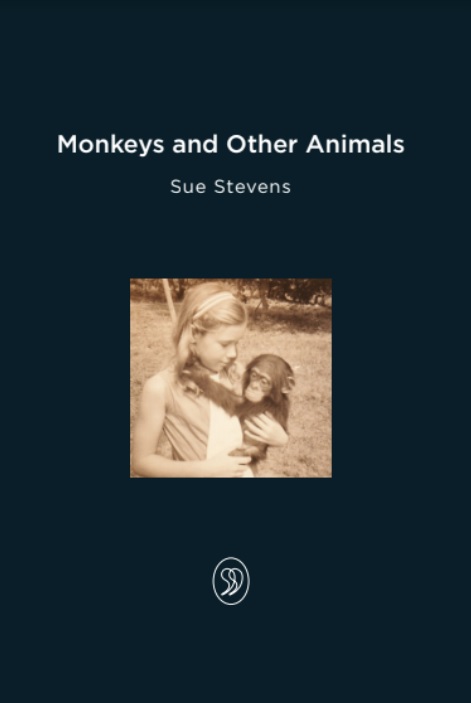 Sue Stevens' StoryTerrace autobiography, Monkeys and Other Animals


To help get her memories of Africa down on paper, Sue worked with a StoryTerrace Senior Writer. "She was great," Sue says. "She made me feel like we were just two friends sitting on the sofa chatting."
The relaxed nature of the interviews with her ghostwriter helped Sue dive deeper into her memories and tell her story in the way she had always meant to. "What a brilliant idea," Sue says of StoryTerrace. "I couldn't have done it without them."
Escape to a New Life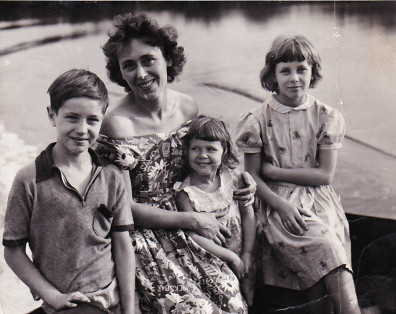 Sue seated on her mother's lap, with siblings Chris and Lyn. The family often traveled by boat in The Gambia


Sue's parents met during World War II, during which her mother sewed parachutes and her father served as a UK-based mechanic. Sue's father was a gambler. "Dad would bet on anything," Sue recalls. "Mum would meet him on Friday nights to collect his pay packet from him, otherwise most of it would be spent down at the betting shop."
When Dad saw the posting for a mechanic's job in The Gambia, his friends all joked that he should take it because it would finally take him somewhere where there was nothing to bet on. Though initially he applied for a laugh, he leapt at the change when offered the position.
Soon the mechanic and his young family packed up and headed to Africa, Sue was born in the UK, but she was living in The Gambia by the time she was three months old.
Surrounded by Animals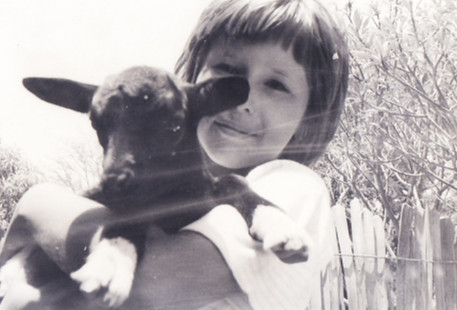 Sue holding her beloved pet baby goat

Sue recalls Africa as a wonderful place for a child to grow up. She feels supremely lucky to have had a childhood with so much freedom — the kind of place where she could wander off for hours, barefoot, to find people and animals to play with.
Sue's family took in all sorts of pets at their compound, including a black and white baby goat that Sue fell in love with. But when a leopard began skulking about the village and nabbing neighborhood dogs, Sue's father fashioned a metal cage with a trap door that led to a box. One night he used Sue's baby goat to bait the box, and eventually the leopard was caught in the cage — giving Sue and her brother quite the fright! "It roared its head off at us and we ran as fast as we could," Sue remembers.
The baby goat was frightened too, but it was safe in its own half of the age where the leopard couldn't reach it.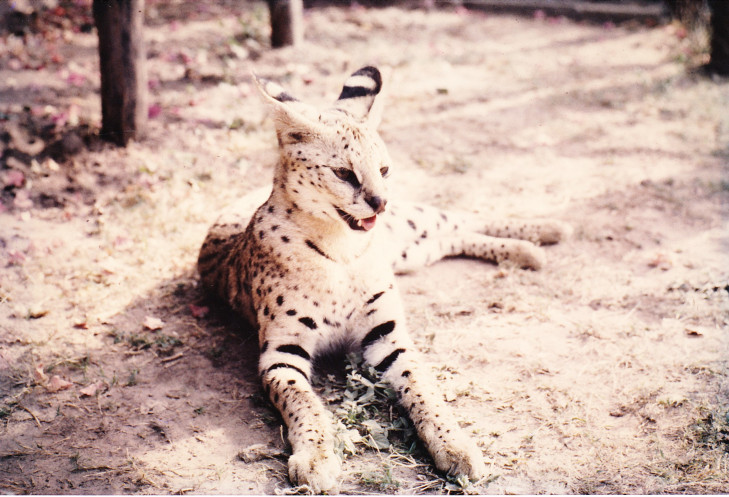 Sue's orphaned serval cat

When Sue was young, the British government moved the family further down river to Yundum. Now closer to the capital city, the family enjoyed more modern conveniences than they had in their first home.
They also welcomed a wide variety of animals in their new home, thanks in part to neighbors who took in orphaned and injured animals for rehabilitation. Sue was given a serval kitten to look after — an animal so beautiful that he was featured on picture postcards that tourists would send home from visits to The Gambia.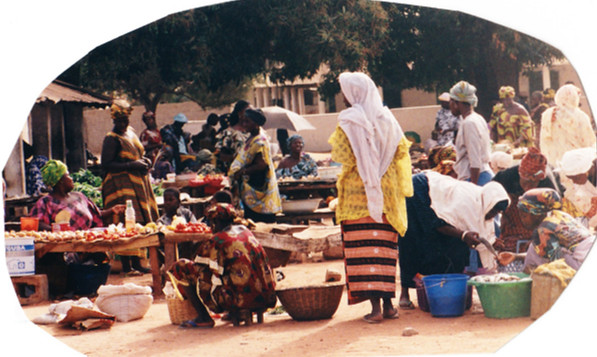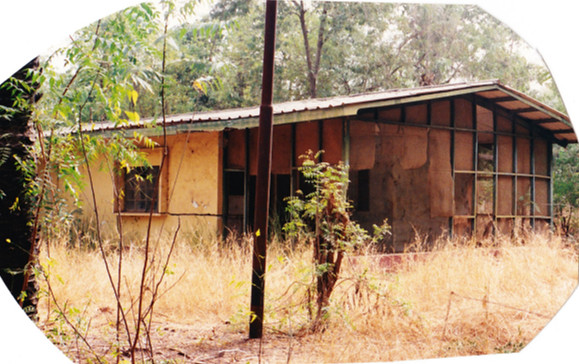 Top: the market at Serekunda and Bottom: the family house in Yundum

Monkeys were common in The Gambia, and Sue's family raised several. One standout was Monk, a red patas monkey who went everywhere with Sue. "He was loyal, but he could also be very naughty. He saw Mum putting on her lipstick one day, and when she wasn't looking he tried to put it on, too," Sue recalls. "He wasn't very successful, and so he spread it all over the mirror instead. Mum wasn't impressed because lipsticks were rare and very precious in The Gambia."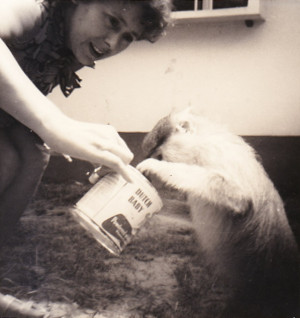 Sue's mother with Monk, one of the family's pet monkeys
Monk was also something of a guard monkey, baring his teeth at anyone who dared to approach Sue. He also had a sweet tooth, and would quickly grab a whole handful of treats from the family tin if offered.
"Come back, tubab!"

When Sue's family would leave to visit England, the locals would gather to wish them well




Sue's father's tours of duty were for three years at a time, with three months off to spend back in the UK. When Sue would visit her homeland she felt quite out of place, despite her best attempts at fitting in.
Each time they left, Sue remembers that local families would gather to say goodbye. The children would call out, "Come back, tubab!" Tubab was the word for a white person.
But when Sue turned 13, her parents decided it was time for her to get an education. Up to that point, she had really not had much formal schooling in Africa, instead learning her lessons out in nature.
"Going to school in England was a huge shock," Sue says. "I thought I was going to die." Eventually, she found her way to making friends and settling in to life in the much more crowded country of birth.
Though she only lived in Africa for 13 years of her long life, Sue's incredible childhood has stayed with her all this time. "It was beyond amazing," she says of her time in The Gambia. "And it doesn't seem like a long time ago at all."
Do you have precious childhood memories to share with your loved ones? StoryTerrace can help you organize and share your life story with your family and friends. To find out more about working with our professional writers, get in touch today or sign up to our newsletter for more real-life stories from our customers.