The first thing your realize when you speak with Jo Davey is that she is sharp. She can rattle off the details of just about any event in her life with so much detail that you, the lucky listener to the story, feel like it only happened yesterday.
That was my experience, at least, when I spoke with Jo over the phone about her StoryTerrace autobiography, Life Is an Adventure, Not a List. Her strong memory might well be attributed to the power of writing: Jo kept years' worth of pocket diaries over the course of her life, where she tracked all the things that happened to her each day.
"I've always written," Jo says. "I like writing."
Even so, Jo found the task of turning her diaries into a full memoir to be a tall order. As the oldest living member of her family, Jo is the last person left who knows about the old days and ways. She wanted very much to preserve her memories of her parents and grandparents and the life they lived before and during World War II.
But despite her best efforts, the memoir wasn't happening. "When I started writing, I found it to be too difficult," Jo recalls. There was so much to say, but how should it be said?
That's when Jo's daughter Lesley gave Jo the gift of StoryTerrace. "It was so easy," Jo says of working with a professional writer, who interviewed Jo and helped edit her existing work. "Of, course, at my age it's easy to sit and talk about the past," Jo says.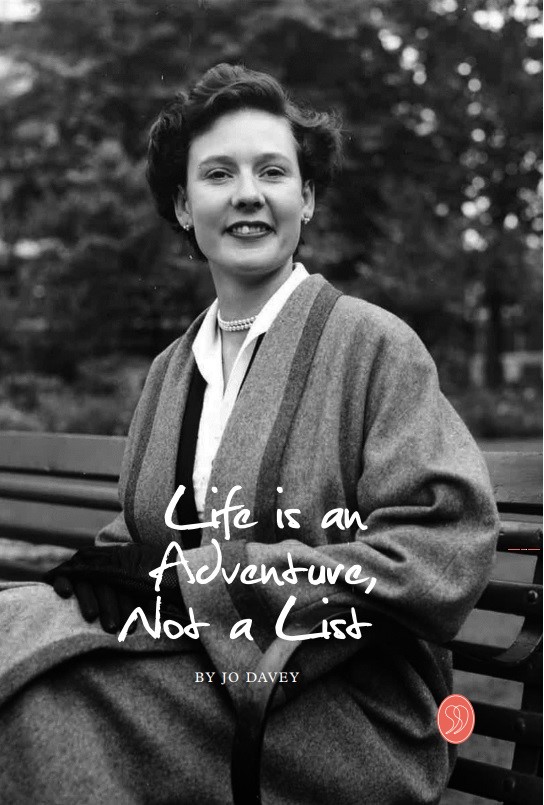 Jo Davey's finished book Life is an Adventure, Not a List
The War Years
One of the reasons Jo had trouble writing her memoir on her own was that it was so hard to know where to start, and what readers would find interesting. Quite a lot of things happened to Jo, you see. Born in 1928, she was just a girl when the Germans began dropping bombs on London in 1940. At the time, she lived in Penge with her mother, father, and baby sister.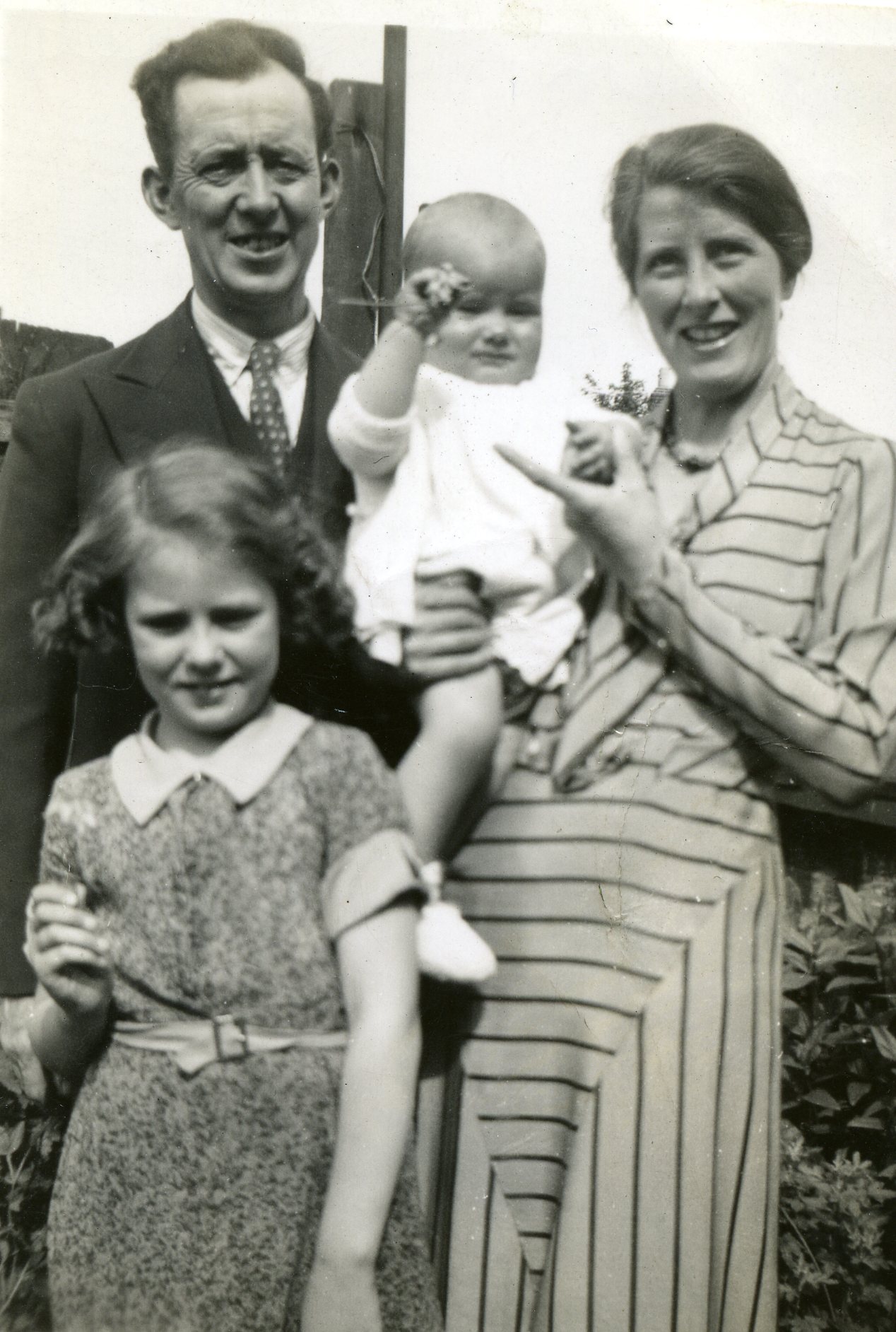 Jo with Dad, Mum, and baby sister Janet just before the war
The height of the Blitz was terrifying for Jo, who was just a schoolgirl at the time. "School went on," she told me grimly, and everyone did their best to be brave. But she never knew when she went to school who would be there the next day — and who was gone forever, a victim of an air raid.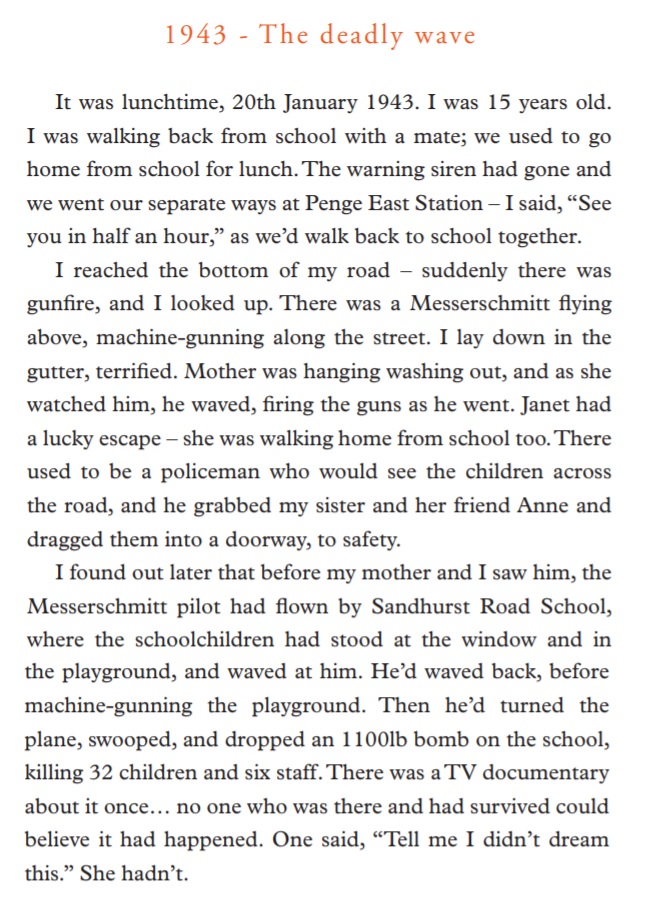 An excerpt from Jo's book titled "The Deadly Wave"
Jo's family eventually evacuated to a farm on the Welsh border. There they lived with kind relatives with enough food to share, and Jo's mother could begin to recover her nerves after the trauma of the siege.
Working Girl
When Jo was just 16, she knew she was done with school. "In those days, university was very expensive, and I knew I was not going," she explains. Instead, she got a job to help the family — and in doing so, became a trailblazer. Jo became the the youngest-ever female employee of the Bank of England.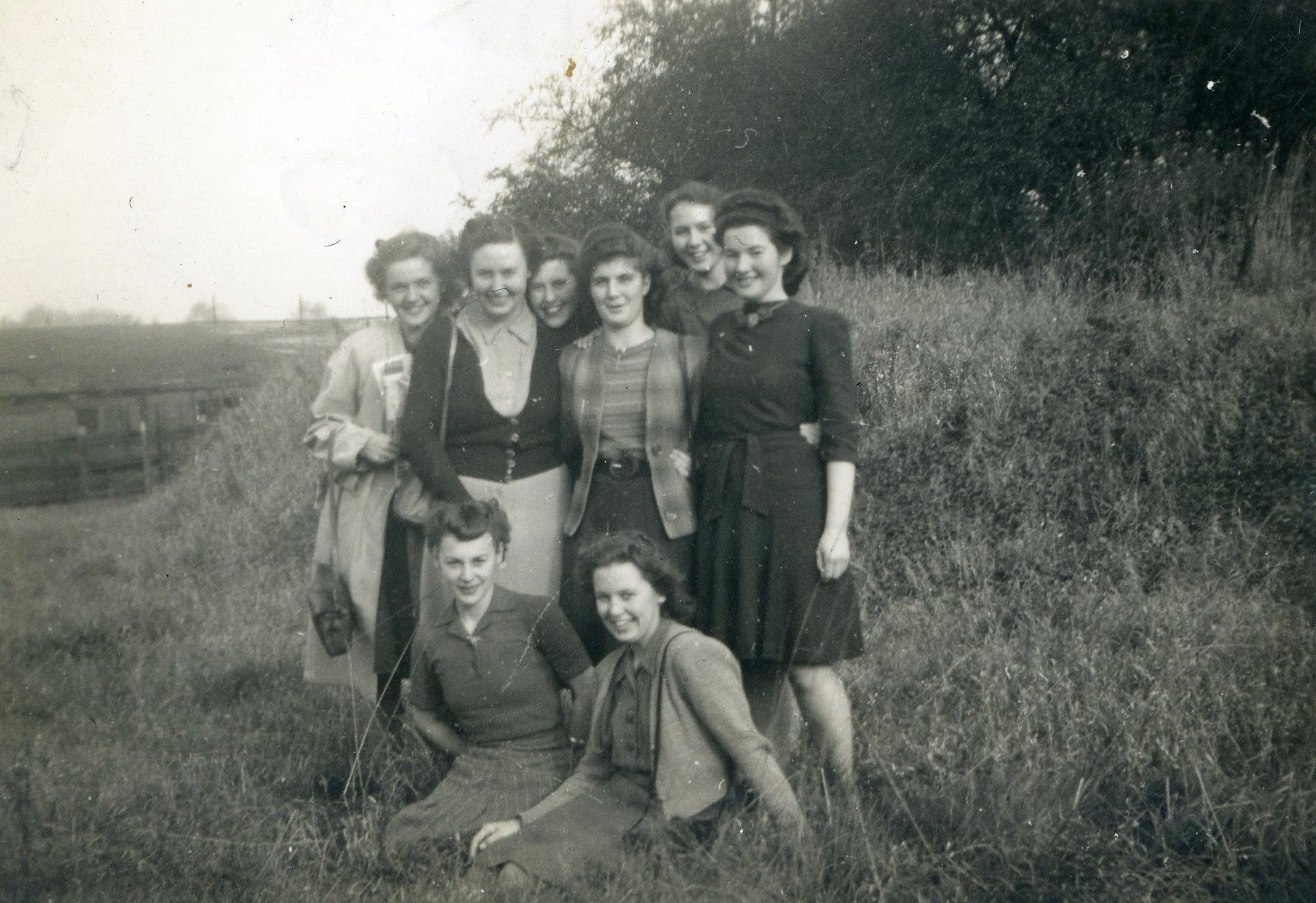 Jo with her colleagues from the Bank of England
While working, Jo lived in housing provided by the Bank of England near their evacuated offices. At the hostel Jo shared a bedroom with five other young women — a privilege for which she still had to pay rent!
Jo continued to work for the Bank of England for 14 years, but was forced out when she and her husband Harry had their first child. At that time, the Bank refused to keep a pregnant woman on staff, and would only hire her back at a much lower position after the baby, Lesley, was born. Jo refused the offer of mundane work: "I wasn't that sort of person. I like to use my brain, and it would have been painfully dull."
A Creative Streak
Jo recalls being very self-sufficient during the War. "In the war, everybody grew things in their gardens and allotments," she says. She also remembers making sure nothing went to waste: not food, not paper, and certainly not fabric.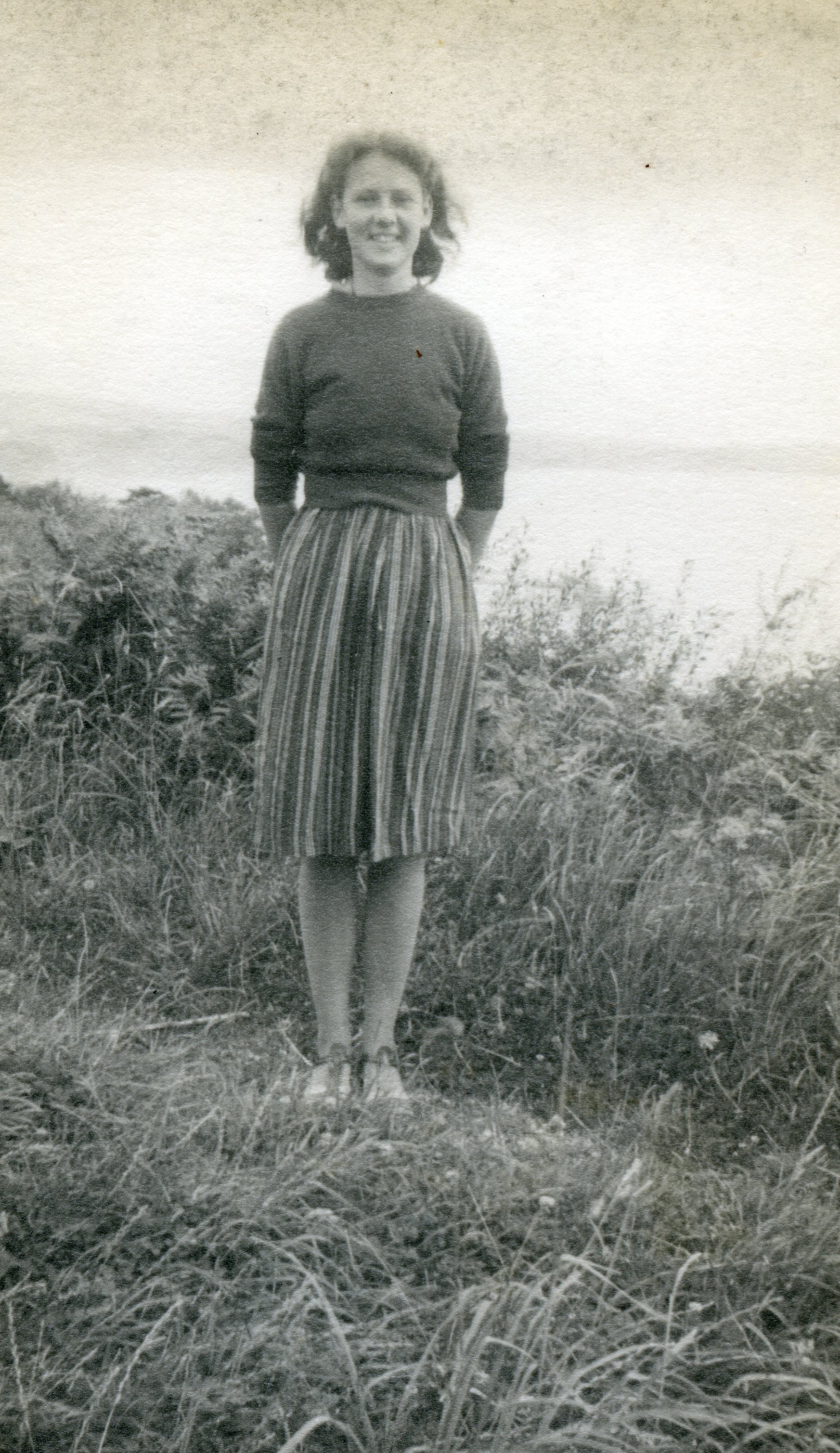 Jo on holiday in Ramsgate after the War, wearing clothes she made herself
When asked about the photo above, Jo talked about what she was wearing. "You were given a certain number of coupons for clothing," she says. "But we made everything because it was easier to buy material" than it was to buy a finished skirt or blouse. In the photo above, Jo remembers that she made the skirt from pieces of salvaged material. The jumper (that's a sweater for our American readers) was reknit from an old cardigan that Jo painstakingly unraveled to preserve the yarn.
Jo's creativity also extended to the stage. She loved to perform, and played many roles over the years. In fact, she and her husband Harry both enjoyed acting. Harry liked comedies and musical revues, but Jo preferred serious roles. Her favorite was the lead in Dial M for Murder.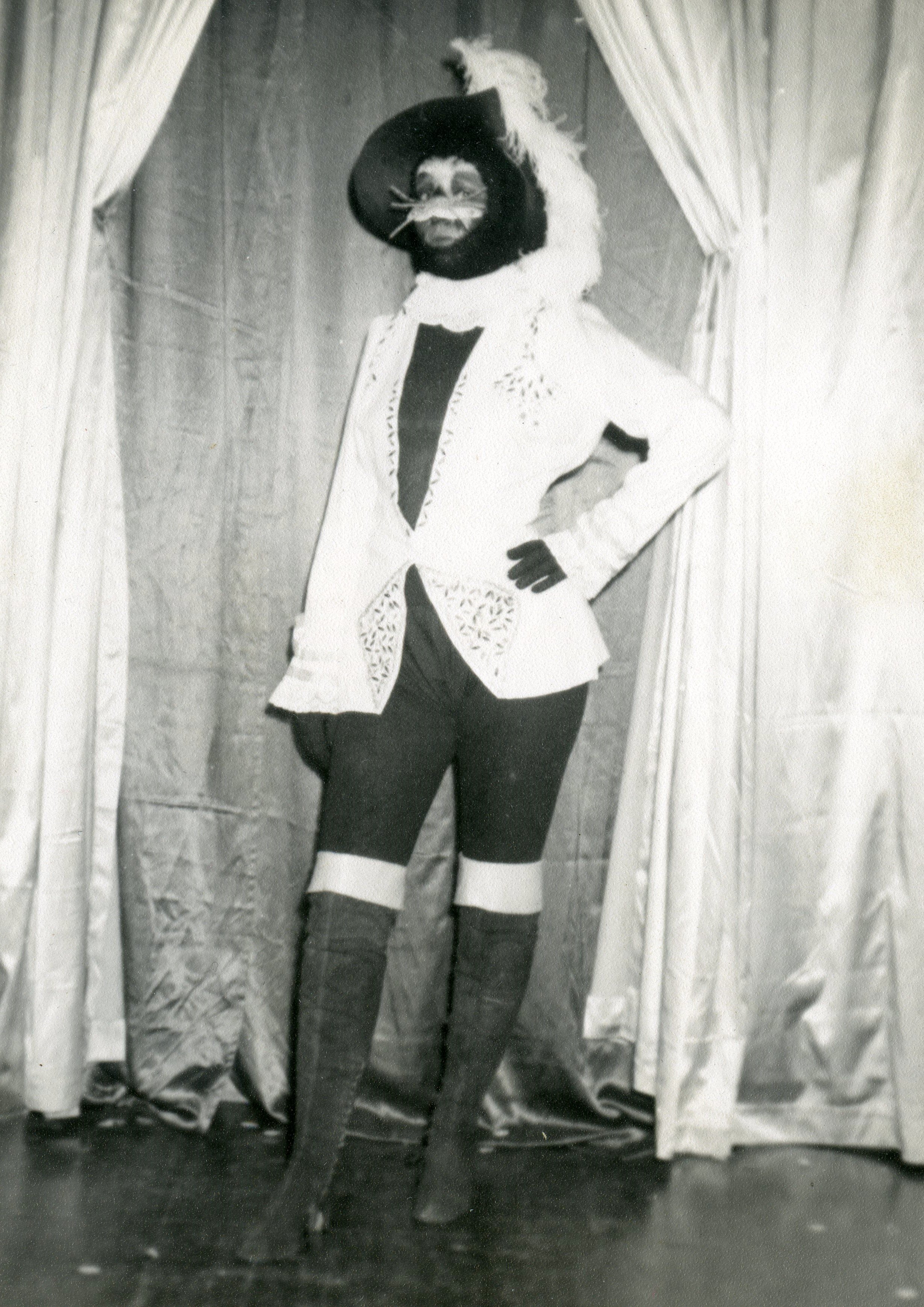 Jo performing in a pantomime as Puss in Boots
History Is Made of the Stories We Tell
In speaking to Jo and reading her memoir, a rich world opened up to me. There were colorful characters and naughty children. There was the sound of laughter, but also of machine gun fire from German planes strafing her neighborhood. There was young love and righteous indignation about sexist policies in the post-war workplace.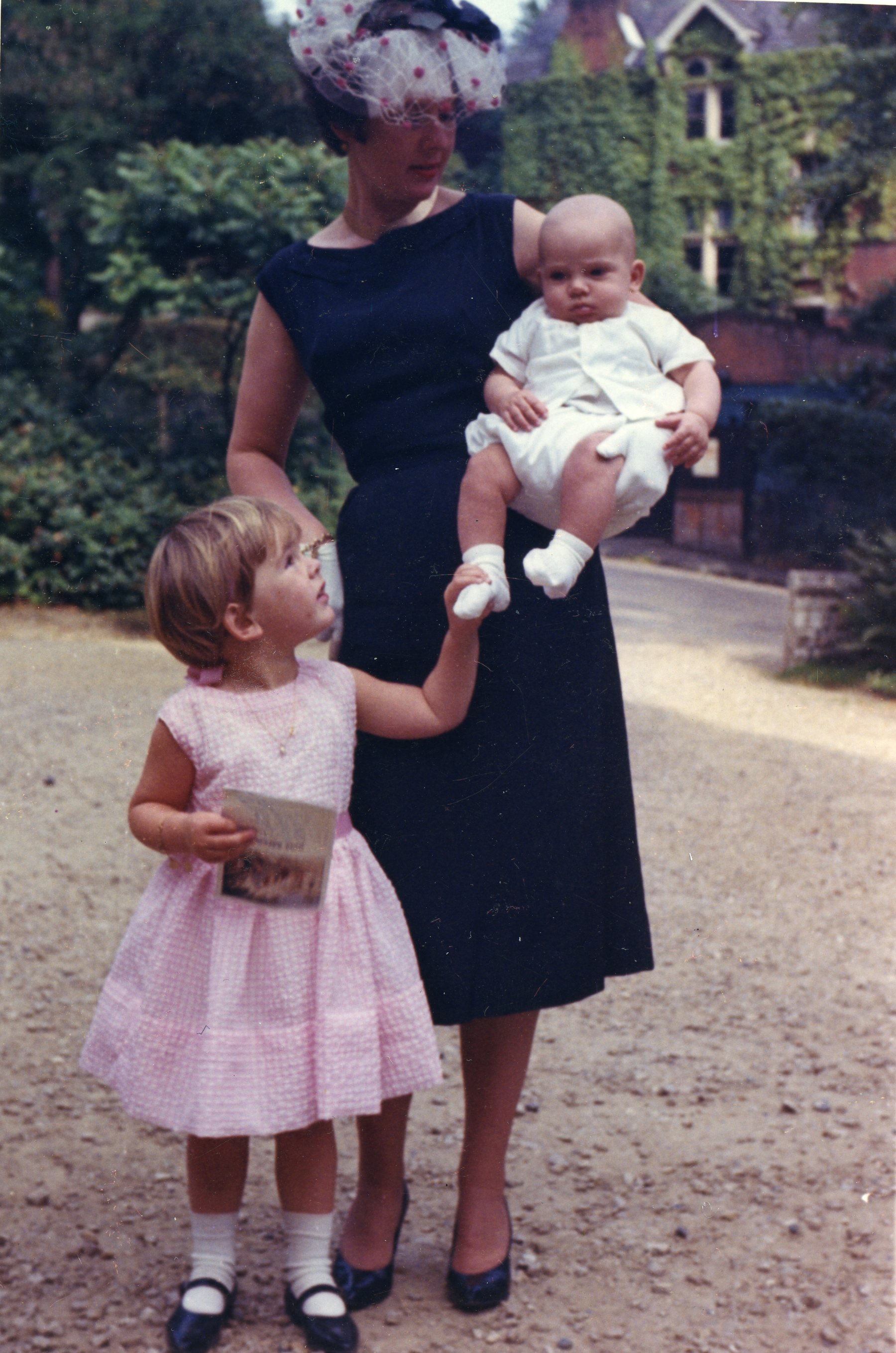 Jo as the mother of two young children in 1964
Jo's life is our history, as she lived it. Yet I suspect that if we hadn't heard her tell her story, we would see her only as in the photo above, as a typical mother and later a fine old lady and honorary grandmother. Those are, of course, two incredibly important roles. But if her daughter had never insisted that Jo preserve her story, we might never have had the opportunity to know the full woman. In so doing, we get an intimate look at the history of the 20th century through the eyes of someone who was really there.
And that's an incredible gift.
Do you have an older relative whose story is worth preserving? StoryTerrace can help you learn much more about your parents and grandparents' lives. To find out more about working with our professional writers, get in touch with us today.
If you would like to find out more about Jo's remarkable story, she was featured in The Sun.