For American readers of our blog, a quick explanation is in order right off the bat. MBE stands for "Member of the Most Excellent Order of the British Empire," and it's an honor that dates back to 1917 when the Order was established by George V. There are five classes within the order, and the highest classes make someone a knight or a dame.
In short, it's a very big deal, and Susie earned her MBE by doing incredible work to improve the lives of people who, like herself, suffer from Multiple Sclerosis (MS).
But before that, she was "Birmingham Sue," a DJ spinning tunes on Radio Majorca and living the high life. I recently spoke to Susie over the phone to learn more about her fascinating journey from party girl to Deputy Lieutenant of Essex, and everything in between.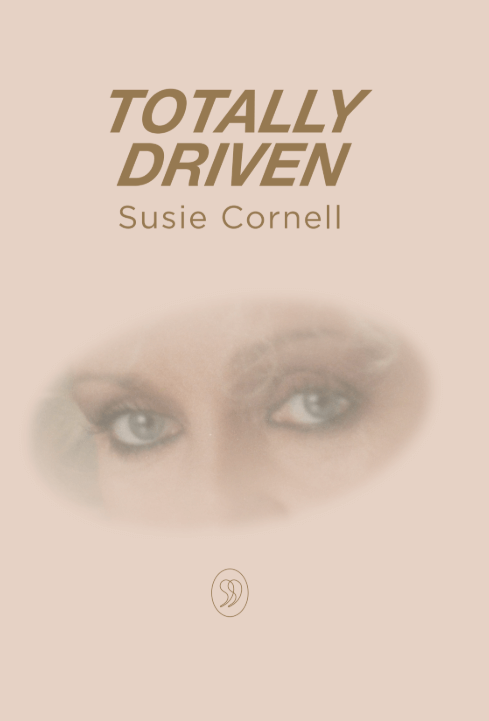 The cover of Susie Cornell's StoryTerrace autobiography
Inspired by Angel Wings
When Susie was given a sign to write her autobiography, she didn't hesitate. "I was in a garden center and saw this flower. It was beautiful, with white petals and white leaves. My husband picked it up and said, 'Oh, it's called Angel Wings.' And later that night, my mother died."
Susie had been thinking about telling her story for some time, but that night she knew what she had to do. She knew her mother would have wanted her to tell her story, and Susie dedicated her autobiography, Totally Driven, to her memory.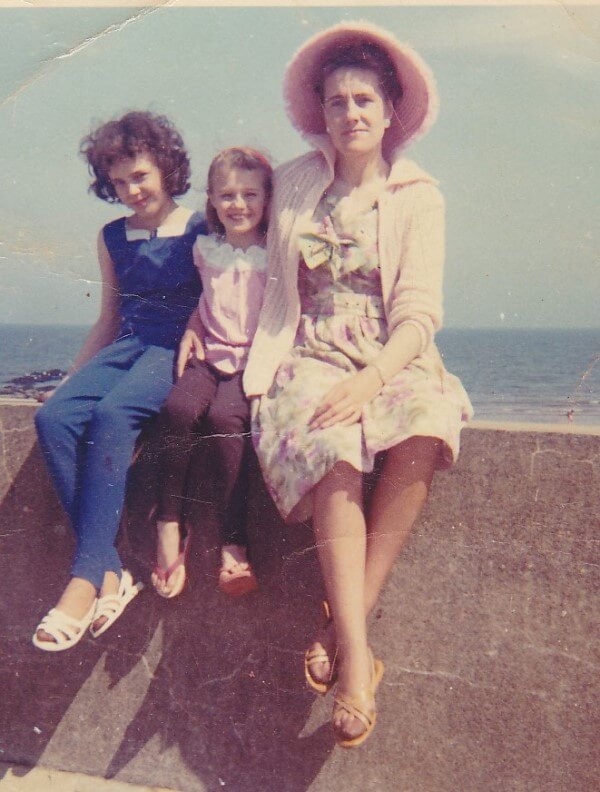 Susie, her sister Yvonne, and her mother vacationing in Blackpool
One of Susie's friends had already written an autobiography with StoryTerrace and gave a glowing review, so Susie decided to give it a try. "I didn't know where to start. It was something completely new. I had a story, but didn't know how to tell it. They made it so easy."
Once Susie connected with the right writer, she found it easy to share all the different threads of her life. And it has been quite a life! Susie was kind enough to share some of the photos from her book with us below.
The Queen of the May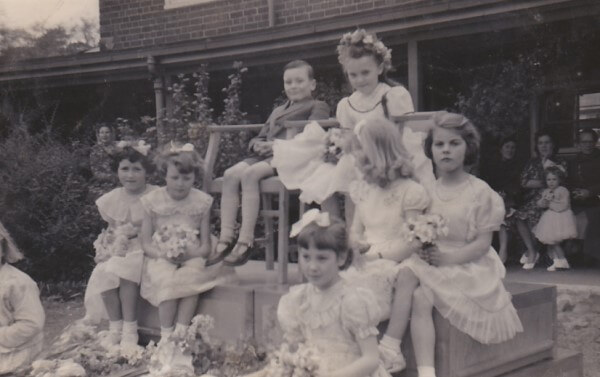 Susie at age 7 as the Queen of the May, sitting on her throne
Years ago, many villages throughout the UK celebrated May Day with maypole dancing and other festivities, including the selection of a "Queen of the May." When Susie was 7 years old, she was chosen as her school's first-ever May Queen. She was also their final May Queen, as they discontinued the celebration the next year — but it wouldn't be Susie's last time in the spotlight.
Introducing Miss Birmingham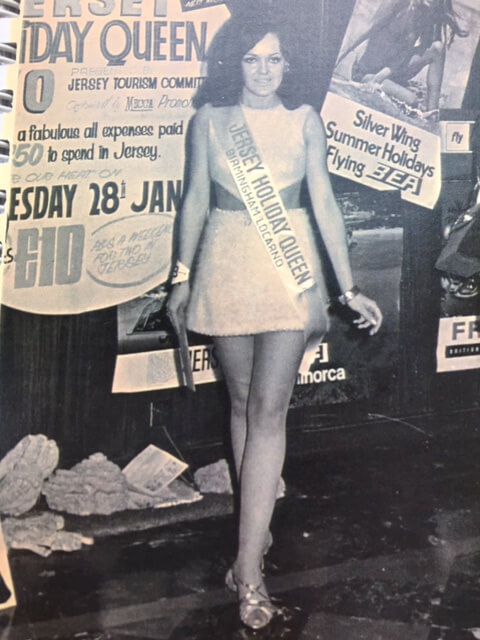 Susie won the title of Queen of Miss Birmingham City at age 17
Though she had never before dreamed of entering a beauty contest, Susie's boyfriend at the time encouraged her to do it. He was convinced she'd win; she thought he was ridiculous. But her friends encouraged her, and her fluffy pink dress with exposed midriff caught the judge's eye. She won, and later that night she went on to compete in the Miss Jersey Holiday Queen contest. "You can see how nervous I was on my face," Susie recalls, "but it was now or never."
The Glamorous Life in Majorca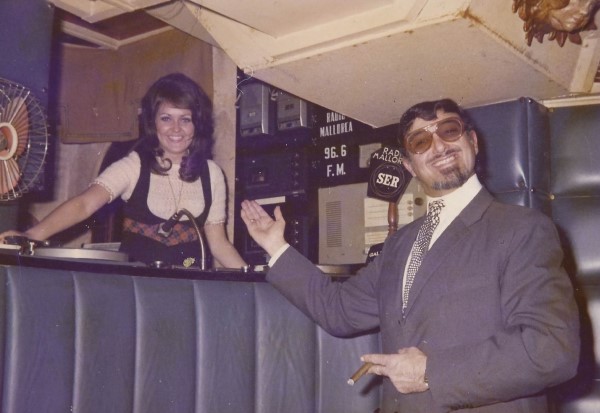 "Birmingham Sue" was a popular radio DJ in Majorca
Susie with radio station owner Ricki"Lash" Lazzar (above) and live on air with British soccer player George Best, which featured in the Majorca Daily Bulletin (below)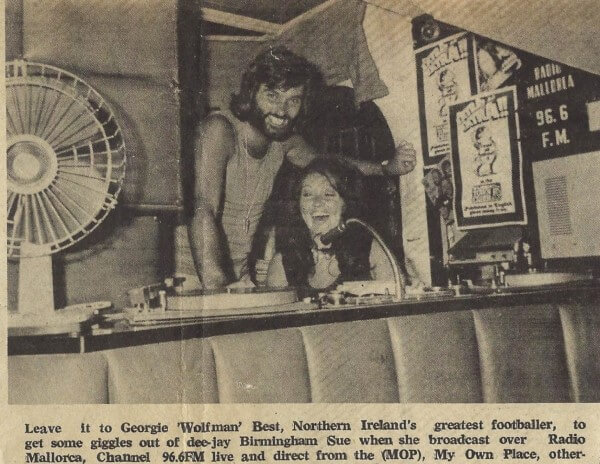 In her 20s, Susie lived and worked in Majorca, a practically unheard-of opportunity to work and live abroad. She started out selling tickets to the Barbarella Party Boat, but eventually she was in the right place at the right time to be discovered by American Ricki Lash. Convinced she would be great on the radio — despite a total lack of experience — he hired her as a DJ. It didn't pay much, but the position was too good to pass up. Birmingham Sue became an island celebrity and rubbed elbows with all the rich and famous visitors to Majorca in the 1970s, including former Manchester United soccer player George Best.
On a Mission to Help Others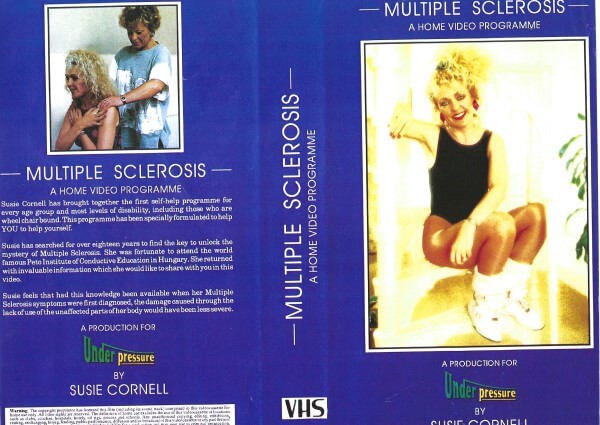 The Multiple Sclerosis Home Exercise Programme, one of the home videos Susie put together that was later bought by most physiotherapy departments in hospitals across the UK
By the time Susie approached StoryTerrace about her autobiography, she had already written a book and published several exercise videos on her own. The Complete MS Body Manual was a collection of everything that Susie had learned about living with MS. When Susie was diagnosed with this degenerative neurological disease in 1974, there was no treatment but rest, and she was warned that she would likely end up in a wheelchair.
But through a stroke of incredible luck, Susie ended up seeking treatment at the Peto Institute in then-Communist Hungary, where she learned that much of her mobility loss was due to the rest she had been prescribed. Truly, the human body is a use-it-or-lose-it machine, and in Hungary Susie learned a holistic approach to health that included an exercise regimen.
When she returned to the UK after her treatment, Susie was ready to share what she had learned to help others with MS live healthy, independent lives.
Click below to LISTEN to Susie as she reads from her autobiography about her return to England:
The Honor of a Lifetime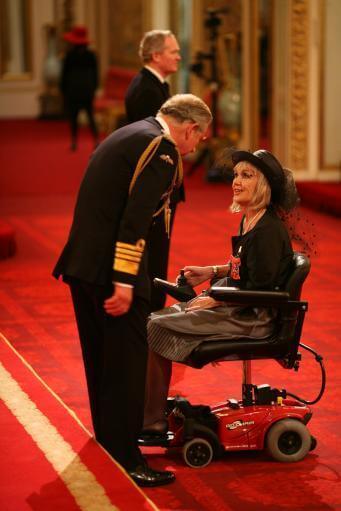 Susie's investiture at Buckingham Palace in 2007
In addition to her book and exercise videos, Susie also worked at an exercise clinic to help people with MS regain their balance and strength. She trained at Derby General Hospital to become a certified therapist and devoted her career to helping people with MS. In recognition of her extraordinary work, Susie was awarded her MBE by Prince Charles at Buckingham Palace.
You Can Call Her Ma'am
Susie is also the Deputy Lieutenant of Essex, which means that she takes on official duties when required. For American readers, a bit of explanation: Each county in the UK has, since the reign of Henry VIII, a Lord Lieutenant who is second to the monarch in that area. When the Queen wants and answer or needs to communicate, she calls on the Lord Lieutenant. The Lord Lieutenant stands in for the Queen during official events in Essex when she cannot be there herself.
The Lord Lieutenant has deputies to cover various responsibilities, and in Essex, that's Susie Cornell. As Deputy Lieutenant, Susie is sometimes called upon to take over the Lord Lieutenant's duties — which means that, on occasion, she is serving in the role of Queen.
From Queen of May to Queen of Birmingham City to stand-in for the Queen of England, Susie Cornell has led a truly fascinating life. So if you see her, be sure to tip your cap and address her as "Ma'am." She's earned it.


If you've been inspired by Susie's story to write your own autobiography, StoryTerrace is here to help! Get in touch to find out how you can write your memoirs to inspire others today and sign up for our newsletter to hear more fascinating stories from our clients.