Dad. Pops. My Old Man. Papa. Stepdad. Daddy.
No matter what you call your father, there's a universal sentiment about the men in our lives — when they talk, we listen.
Father's Day will be here soon, which got us thinking about the important figures dads are. Whether they're giving us a warm hug, teaching us how to ride a bike, wiping away tears after a breakup, cheering us on to victory in our soccer match, high-fiving us at college graduation, or making us laugh uncontrollably — dads play a welcome, integral role throughout our lives in so many ways.
After all — a dad is a son's first hero and a daughter's first love.
Think about it:
How many times have you gone to your old man seeking help and advice — no matter if you're 5 or 55? Countless. Life lessons he's taught us? Immeasurable. Seems like dads always deliver the precise words of wisdom we need for any situation.
So, we decided to look into some powerful advice famous fathers have imparted. So much of it rings true with us here at StoryTerrace, and we wanted to share it with you, too.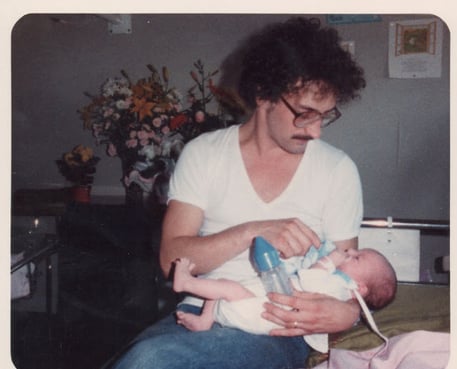 Photo credit: Vintage New Daily
Famous Fathers, Great Advice
Way back in 1933, novelist F. Scott Fitzgerald wrote a poignant, poem-like letter to his 11-year-old daughter. Here's some of what he shared:
"Worry about courage
Worry about cleanliness
Worry about efficiency
Worry about horsemanship
Worry about…
Things not to worry about:
Don't worry about popular opinion
Don't worry about dolls
Don't worry about the past
Don't worry about the future
Don't worry about growing up
Don't worry about anybody getting ahead of you
Don't worry about triumph
Don't worry about failure unless it comes through your own fault…"
Isn't it amazing how Fitzgerald summed up so many important lessons in so few words? We especially love his note to not worry about popular opinion — just be yourself and do what makes you happy!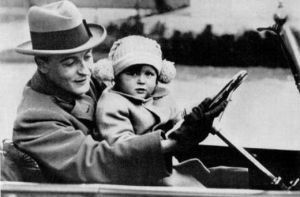 Scottie with her father, Francis Scott Fitzgerald.
Photo credit: Agefotostock.com
And here's an honest and thoughtful letter that former President Ronald Reagan wrote to his son just days before the 26-year-old's wedding in 1971:


"You have entered into the most meaningful relationship there is in all human life. It can be whatever you decide to make it. … There is an old law of physics that you can only get out of a thing as much as you put in it. The man who puts into the marriage only half of what he owns will get that out. … There is no greater happiness for a man than approaching a door at the end of a day knowing someone on the other side of that door is waiting for the sound of his footsteps.
P.S. You'll never get in trouble if you say "I love you" at least once a day."
Well, President Reagan, we agree — telling our family and friends we love them is so important!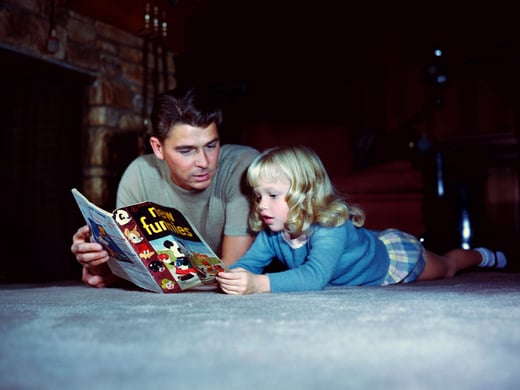 Ronald Reagan reading a magazine with his daughter, Maureen, circa 1945.
Photo Credit: Getty Images
We also love the blunt directness from rapper, movie star and businessman Ice Cube:
" Mind your own business and you will live longer. Don't take crap from anybody. Stand up for yourself. Be nice. You don't have to be mean. Don't leave it up to the mother to raise your kids. You need to be just as involved. Just being there is not being there. You have to be there and be involved. Don't sit on the sideline and leave it for your wife to do."
Yes to all of that, Ice Cube! We think he should create a rap song with those powerful words of wisdom. It would certainly go to the top of the charts!
You know, it's quite amazing how so much fatherly advice withstands the test of time. In particular, we like what Harper Lee penned for Atticus Finch in To Kill a Mockingbird back in 1960:
"You never really understand a person until you consider things from his point of view… until you climb into his skin and walk around in it."
Insightful Quotes That Resonated With Us
"'Don't take life too seriously,' and more than anything, he always told me to pursue my dreams."
– Conrad Anker, Professional Mountain Climber, including Mount Everest
"My father used to say, "You know, Marty, the key to life is to do the decent thing." I'd like to be remembered as someone who tried to do the decent thing."
– Martin Short, Movie and TV Star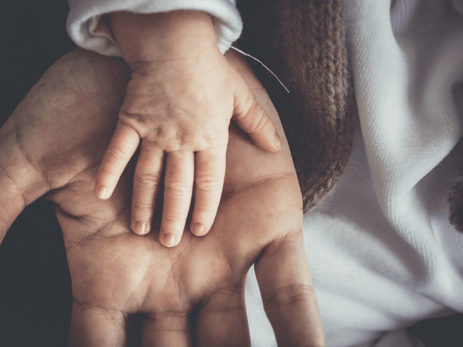 Photo credit: Pixabay
"My father and mother emphasized two things: Every person is responsible for his or her own actions, and, to the best of your ability, leave the world better than you found it."
– Bill Nye the Science Guy
"I feel that the greatest gift that I can give my children is the freedom to be who they are."
– Will Smith, Movie and TV Star
Capture Your Dad's Joy and Wisdom
No doubt your own father has shared some valuable insight over the years. There's no better way to capture that advice and all the wonderful memories you've shared together than with his very own memoir life's journey, crafted by StoryTerrace.
As our dads are getting older, there's no time like the present to honor him with a priceless family heirloom. In fact, a parent we worked with said writing her story was the best thing her sons could have done for her.
Reviewing all this excellent paternal advice reminded us to call our dads and tell them how much we love them. Maybe you will, too.
We'll leave you with this anonymous quote that sums everything up quite perfectly and succinctly:
"To the world, you're a dad. To our family, you are the world."
Oh, one more thing — here's some advice for you, dads: Keep your words of wisdom coming.
If you'd like to preserve your father's advice for future generations, contact StoryTerrace or sign up for our newsletter to learn more about writing a family biography today.