Writing a business book is a powerful way to add value to your business and grow your personal brand. When you are passionate about your work and believe your knowledge can truly help people, a book will help you stand out, spread your message and build visibility for your company.
Whether you are an entrepreneur, executive, coach, consultant or inventor, publishing a book in your name will help boost your reputation as a thought leader and provide many additional benefits for your business overall.
1. It Positions You as an Expert in Your Field
Authoring a book provides you with extra authority and credibility in your industry and beyond. It shows you are serious about what you do and are ready to teach the world what you know. In today's business climate, credibility matters: Research from BrightLocal found that 86 percent of all customers check reviews for online businesses before they make a purchase.
With this in mind, your potential customers will be able to see that you mean business (excuse the pun!) by having a book. It will build that crucial trust factor with them, giving them reassurance that they are investing their money in the right person.
2. Your Readers Could Become Customers
Dr. Adam Abodeely, a board-certified surgeon based in New York, had been treating patients with medical cannabis for years before putting his knowledge into a book with the help of StoryTerrace.
A Surgeon's Perspective on the Science and Truth of Cannabis has helped Dr. Abodeely attract new customers for his CBD products. He explains:
"The book has helped me in several aspects; it's helped my business grow, but it's also helped me gain credibility in this industry. It has also helped me tremendously with sales of our current product line ... it's provided a great resource for patients and consumers to try and figure out if medical cannabis is something they would benefit from."
No matter what niche you work in, publishing your own book can help boost visibility of your products and services and have a direct impact on sales.


Our client Dr. Adam Abodeely established himself as a thought leader by publishing his book with StoryTerrace's assistance
3. You'll Generate PR Opportunities
Whether you hire a PR agency or take charge of your own publicity, having a new book out is a great opportunity to generate press coverage for you and your business. Newspapers, websites, TV stations, podcasts, bloggers and social media influencers are always looking for new stories and content. If your book has a fresh outlook, that pushes your industry forward, you'll have a greater chance of getting press coverage — and that's worth its weight in gold.
4. You Can Use Your Book for Content Marketing
It takes many hours to write and refine your book, so you'll be glad to know that your gems of wisdom don't have to be limited to its pages.
The same content that you create for your book can also be repurposed and used across your marketing channels. For example, you could post photos of people holding your book on your social media channels or use excerpts in email newsletters to give your subscribers a taste of what they can expect.
You could also create an online course, blog posts, ebooks, webinars and podcasts built around the themes you have covered in your book. No need to reinvent the wheel! This will save you lots of time, help you to nurture and engage your audience, and give potential customers even more opportunities to discover you.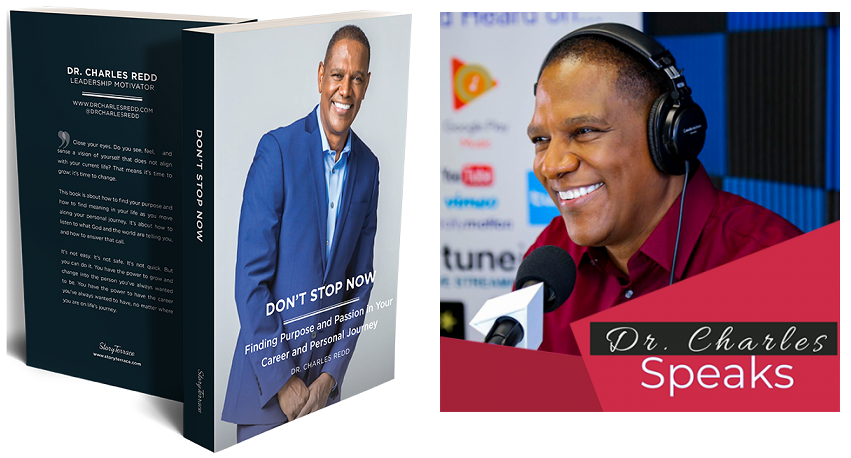 Dr. Charles Redd created his book Don't Stop Now through StoryTerrace. He's since gone on to self-publish his book through Barnes & Noble, Amazon and Waterstones, and promotes his work through podcasts
5. You'll Enjoy Additional Revenue Streams
While your book could be an additional revenue source to your core business through sales alone, you can also harness it to build additional streams of income. For example, you could create a series of ticketed webinars, an app, or use it to land speaking engagements. You could also use your book as a platform from which to build out consulting services.
Diversifying your revenue streams means more security for you and your business, which is especially important in today's climate. And if you're looking for investors, your book could help position your company as a more attractive option to potential backers.
With our StoryTerrace Pro service, we support you at every stage of your business book, from matching you with the perfect ghostwriter through to cover design, publication and promotion. Our team turns your one-of-a-kind idea into a beautiful, professional book to promote your business or personal brand.
Are you ready to write your business book? Get in touch to arrange a chat with our friendly team, or join our mailing list for more updates about StoryTerrace Pro.