The bond between a grandparent and their grandchild is the stuff of legend... and a few Hallmark movies. But did you know that it can also promote greater emotional health? It's true — and there's scientific research to support that. In fact, studies have shown that close ties with a grandparent can also reduce depression and encourages pro-social behavior for grandchildren— a benefit that lasts into adulthood.
But grandparents enjoy plenty of benefits, too. They are less likely to be depressed when they have close relationships with their grandchildren. Serving as a caregiver for grandchildren can also help keep grandparents mentally sharp and stave off cognitive decline.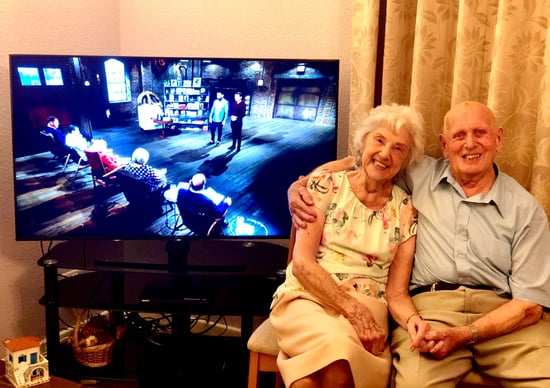 Valerie & David after discovering they'd been gifted a StoryTerrace biography package!
This October 4 is National Grandparents Day, and it's the perfect opportunity to let grandma and grandpa know just how much they're valued. With that in mind, we've put together a list of thoughtful gifts for grandparents that can help reinforce that important connection — even in a time crunch! These gift ideas are designed to help strengthen the important bonds between grandparents and their grandchildren — and that's a gift with a lifetime of benefits.
1. Reverse Story Time
Most grandparents are more than happy to snuggle up on the couch with their grandkids and read as many stories as they like. But you can flip the script by having your child present grandparents with a homemade gift certificate for story time. When Grandma is ready to cash in, she can choose a story book and listen as her favorite young reader practices aloud. This gift of time is a great way to get emerging or reluctant readers to build comprehension, and it keeps grandparents up-to-speed on kids' educational progress.
This idea can still work for very young children, who can be encouraged to tell their own version of the story based on the pictures. Older kids and teens can make an ongoing date to share everything from an interesting magazine article to the whole Harry Potter series.
2. Skype Tutorials and a Call Schedule
Not all families live close enough for regular visits, but it's definitely worth going the extra mile to foster connections with distant grandparents. Today's kids and teens are remarkably tech-savvy, so harness that ability by having them teach their grandparents to Skype (or FaceTime, or Snapchat). This puts your kids in the driver's seat by letting them show off their expertise. They'll be motivated to keep up the calls when they know their grandparents are relying on them for help learning the ropes.
For grandparents who live far away, Skype chats can be a game-changer. They allow a doting grandpa to keep up with all the little changes that happen so quickly as a toddler grows into an inquisitive kid and a creative teen. This is also a meaningful gift for grandparents from adult grandchildren, as it's never too late to strengthen those bonds.
3. Shared Projects
Looking for a great way to foster conversation between kids and their grandparents? Keep them busy in a side-by-side activity, and the conversation will come. Crocheting, cooking, woodworking — these are all useful skills that grandparents can pass on. Consider making a joint gift basket of supplies to give to grandparents and grandchildren; then watch them come together to get creative.
Teaching can go both ways, too. Kids also enjoy getting to teach their grandparents new things, whether it's how to edit a video for YouTube or techniques for winning their favorite online games. Check with older kids and teens to see what other experiences they'd like to share — you might be surprised at their ingenuity!


4. The Opportunity to Share Their Life Story


95 year-old Jouw Nauta was delighted to receive his life story, delivered in a beautiful
gift box
Grandparents are the gatekeepers to a family's history. They're a rich source of information on the past, and the act of sharing that information can also help strengthen bonds. In fact, sharing tales from the past is a crucial part of helping younger generations build memories, but it's easy to get so caught up in daily living that the opportunity to tell these stories is lost. StoryTerrace solves this dilemma by pairing grandparents with a professional author who writes their life stories, complete with all of their favorite family photos. The result is a published book, that serves as a beautiful keepsake to share with the whole family — including grandchildren.
Letting a professional writer take on the task of writing the autobiography frees grandparents to focus on their most important memories instead of focusing on grammar and sentence structure. The process of storytelling is an incredible gift in itself, and the resulting book is something grandchildren can turn to for advice and heartwarming memories.
To learn more about how StoryTerrace can help you celebrate the life and legacy of your grandparents, sign up for our newsletter — we've got lots of ideas!
You can also schedule a free consultation with our team to discuss ideas for your grandparents' biography when you're ready to get started on the best gift they'll ever receive.